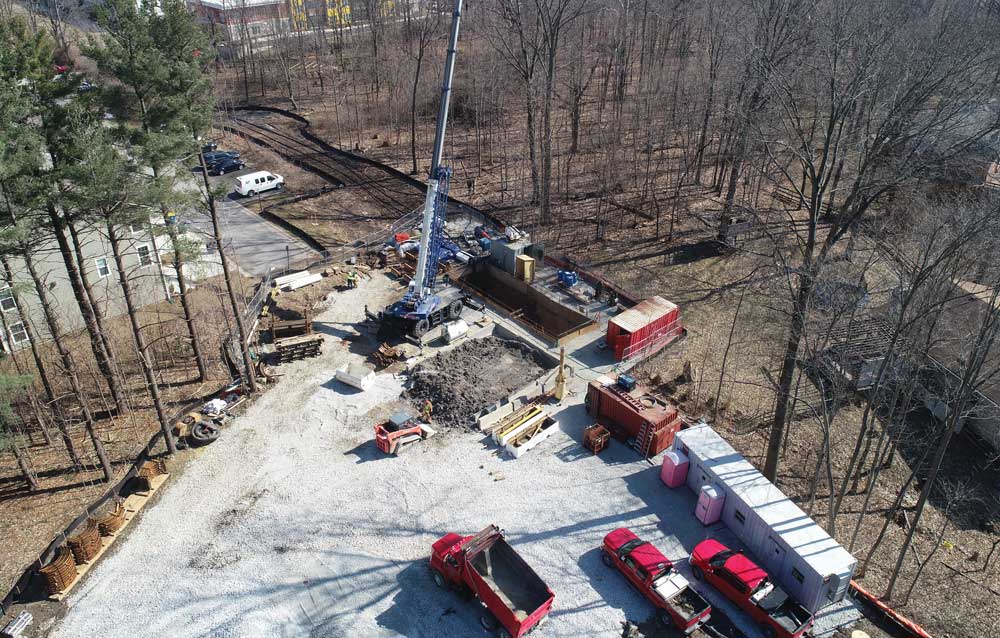 Easing Congestion in Indiana
After years of collaboration between the City of Fishers, City of Noblesville, Hamilton County and Indiana Department of Transportation (INDOT) to address the traffic congestion and public safety challenges along the State Road (SR) 37 corridor, plans are underway to rehabilitate the corridor from 126th Street to 146th Street.
CBE Celebrates 20 Years in USA
CBE Group was awarded two contracts in the United States by its client Traylor Precast LLC, with whom the company already worked in the past, especially for the Bay Tunnel project in 2010 and the Westside 1 project in 2015. Today, Silicon Valley Clean Water and Westside 2 are in the launch phase.
Sandvik Mining and Rock Technology USA Appoints New Vice President
Victor Tapia has been appointed Vice President of Sandvik Mining and Rock Technology, Sales Area United States. He will start in this role on Jan. 1, 2020 and will be based in Atlanta, Georgia. Tapia will be joining Sandvik after working for Metso, where he served a Business Area President and was a member of the Metso Group executive management team.
Skanska Named to Global Sustainability Ranking
Fortune magazine has included Skanska in its annual "Change the World" list of companies leveraging their operations to make important social or environmental impacts. Skanska earned a top 20 placement together with Apple, Patagonia, Philips and Bank of America, and is the only project development and construction company on the list.
LAST CHANCE! REGISTER TODAY FOR NEXT WEEK'S CONFERENCE
Epiroc USA Launches Mining and Construction Blog
Epiroc, a leading productivity partner for the mining and infrastructure industries, has introduced the Mining and Construction USA blog, a valuable new information hub for the two industries. Visitors will discover vibrant content designed to help their operations increase productivity, safety and cost efficiency. They will also read about how to use latest advancements in technology to their full potential.
Final Pieces in Place for West Gate Tunnel Boring Machines
The final parts of the largest Tunnel Boring Machine (TBM) in the southern hemisphere have been lifted into place to get ready to start digging the West Gate Tunnel. The four-story-high cutterhead has been lowered 27 m into the ground in Footscray bringing the project another step closer to start tunneling.
HNTB Welcomes Senior Technical Advisor Liu
Jason Yunlong Liu, Ph.D., PE, returned to HNTB Corp. as senior technical advisor in the Seattle tunnel ventilation and fire life safety engineering group. Based in the Bellevue office, he delivers tunnel ventilation engineering design and analysis across the United States.
COMING IN OCTOBER
Delaware Aqueduct Repair
Shotcrete
Tunnel Update
Don't miss out on the best tunnel coverage in North America — renew your subscription!
Apr. 5-9, 2020 | Denver, CO | Learn more

Apply today for the NASTT Municipal and Public Utility Scholarships. Deadline is November 1, 2019.
May 20-21, 2020 | Niagara Falls, ON | Learn more

The Trenchless Technology Road Show is now accepting abstracts. Please submit them here by September 6, 2019 to be considered.
Technical and practical information required by engineers for cost effective and technically sound grouting programs.
Read More & Purchase
Innovative techniques focused on reducing time, cost and risk in the construction and maintenance of underground facilities.
Read More & Purchase