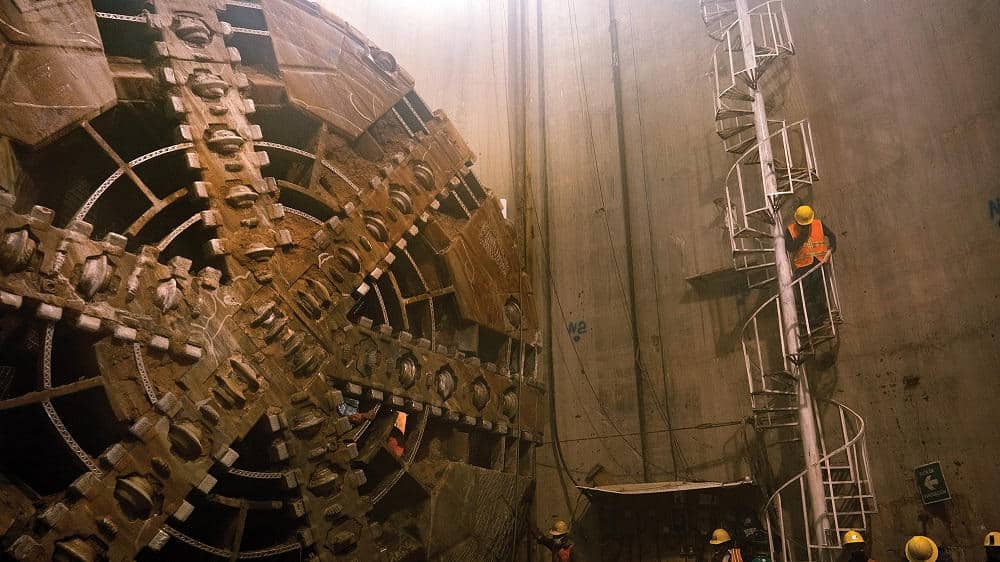 Robbins EPB Breaks Through in Mexico City
On Feb. 28, 2019, a ceremony was held to mark the breakthrough of a machine proven in both soft ground and hard rock. The 8.93 m (29.3 ft) diameter Robbins EPB and continuous conveyor system completed what is arguably one of the most difficult legs of the complex Emisor Oriente tunnel, an epic 62 km (39 mi) long conduit that will revamp wastewater treatment for more than 21.2 million people in Mexico City.
Pushing the Boundaries: Tualatin River Project Extends the Capabilities of Microtunneling
Michels Corp.'s microtunneling team extended the limits of technology by successfully completing a 470-ft long tunnel with a tight, U-shaped vertical curve under the Tualatin River in Tualatin, Oregon. Michels used its new Herrenknect AVN 1800 Microtunnel Boring Machine (MTBM) and specialty 84-in. OD reinforced concrete pipe (RCP) to complete the tight 650-ft radius curve.
Herrenknecht Innovations Keep Pipeline Projects Moving
Every year, around 380 km of new pipelines are installed worldwide using Herrenknecht technology. Thanks to innovative technology developments such as Direct Pipe, pipelines can be installed quickly and securely even in difficult topographies. Crossing under a hurricane protection levee in Texas, Direct Pipe met even the stringent safety requirements of the US Army Corps of Engineers.
New Era Beginning in Seattle
Jan. 11 marked the end of an era — and the beginning of a new one — in Seattle with the closing of the Alaskan Way Viaduct, the elevated highway that is being replaced with a tunnel. Crews are now in the process of finishing connections to the new tunnel, which was expected to last about three weeks. After the tunnel is open to traffic, the viaduct will be demolished to make room for a new surface street along the waterfront.
Sika to Acquire King Packaged Materials Company
Sika has agreed to acquire King Packaged Materials Company, a large independent Canadian manufacturer of dry shotcrete, mortars and concrete solutions. Sika made the announcement on March 8. With the acquisition Sika will further expand its geographical footprint in Canada and improve its growth potential in the home improvement, construction and mining and tunneling markets.
GZA Announces Leadership Changes
GZA GeoEnvironmental, Inc. (GZA), a leading multi-disciplinary firm providing geotechnical, environmental, ecological, water, and construction management services, announced Jan. 16 that it has named Patrick F. Sheehan, P.E., as Chief Executive Officer, effective March 2, 2019. He succeeds William E. Hadge, P.E., who has served in the role since 2013.
Roberts to Manage New Pile Master Air Hammer Line for ECA Subsidiary
Mike Roberts has been hired by Foundation Hammers, LLC, a subsidiary of Equipment Corporation of America (ECA). As Director of Pile Master Products, he will be responsible for overseeing manufacturing; setting up a national dealer network for distribution, sales, and rental; and developing training programs for sales, service, and repair.
COMING IN APRIL
Rapid Tunnel Excavation
Brenner Base Tunnel
Tunneling and Hyperloop
Don't miss out on the best tunnel coverage in North America — renew your subscription!
Technical and practical information required by engineers for cost effective and technically sound grouting programs.
Read More & Purchase
Innovative techniques focused on reducing time, cost and risk in the construction and maintenance of underground facilities.
Read More & Purchase