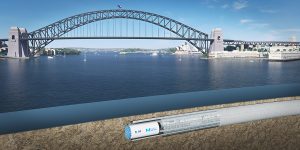 Bechtel, a global leader in engineering, procurement, and construction, on May 4 announced that the company has been awarded a landmark contract on the Sydney Metro project. Specifically, Transport for NSW has appointed Bechtel as the official delivery management partner for the Tunnels and Stations Excavation package of Stage 2 of the Sydney Metro project. Noted as Australia's largest public infrastructure project, when completed, the Sydney Metro project will include new twin rail tunnels under Sydney Harbor.
"Since 1954, Bechtel has been engineering and constructing projects across Australia but it's really exciting for us to be in the Sydney transport sector," said Shaun Kenny, Infrastructure General Manager – Asia Pacific, Bechtel. "Around the world we engineer, construct and project manage the world's biggest and most complex railways and we're absolutely delighted to be engaged on Sydney Metro and are looking forward to combining our international experience, local skills and capability to play our part in Australia's biggest public transport project."
RELATED: Bechtel Selected to Deliver Spadina Subway Extension in Toronto
"The Sydney Metro is crucial to the modernization and transformation of the city's public transport network and will help meet the challenges of a growing population," said Tim Parker, Project Director, Transport for NSW. "We believe that Bechtel is the right partner with the right leadership skills and program management expertise to deliver a world-class metro system for Sydney."
Bechtel's scope includes managing the delivery of 15.5 km of twin-bore tunneling using five tunnel boring machines and excavation for six new metro stations.
Over the past 63 years, Bechtel has delivered more than 500 projects in Australia beginning with an oil pipeline in Melbourne to most recently building three LNG plants as part of the award-winning Curtis Island LNG program in Queensland. The Curtis Island program represented the largest concentration of private-capital investment in Australia's history.
Bechtel has worked on more than 300 rail and rail-related projects across the world. Current rail projects include London's Crossrail where Bechtel serves as the delivery partner, the Riyadh Metro in Saudi Arabia, and both the Edmonton Valley LRT and the Toronto-York Spadina Subway Extension projects in Canada.