Construction will soon begin on the fifth and final replacement phase of the deep tunnel system that collects raw sewage — not stormwater — and carries it to Charleston Water System's wastewater treatment plant.
On Jan. 29, Charleston Water's Board of Commissioners approved a $50.8 million construction contract with Southland/Renda JV, a joint venture between Southland Contracting and Oscar Renda Contracting, both based in Texas, to build the new West Ashley Tunnel.
Construction will involve drilling a 1.6-mile long, 120-ft deep, 8-ft diameter tunnel from Albemarle Road, under the Wappoo Cut, to the Plum Island Wastewater Treatment Plant off Haborview Road. The project also includes building a new pump station and piping at the treatment plant as well as sewer system improvements in several areas. Construction of this final phase will take approximately 30 months to complete.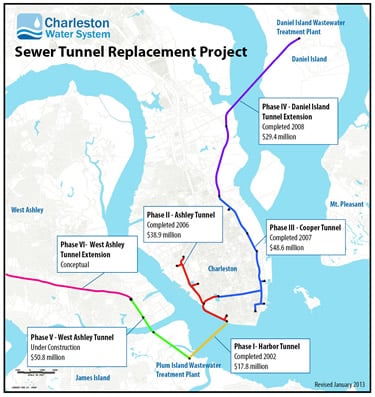 The new West Ashley Tunnel will replace an existing tunnel that carries wastewater from West Ashley, parts of Johns Island, and the Towns of Hollywood, Ravenel and Meggett — currently about 10 million gallons a day — to the treatment plant. Built in the late 1960s, this existing tunnel is badly deteriorated and too small for today's peak wastewater flows, resulting in occasional sewer system overflows in low-lying areas in West Ashley.
"Sewer infrastructure is something most of us never think about, but it's absolutely essential to public health, environmental protection and ultimately our quality of life," said Kin Hill, P.E., Charleston Water System CEO. "Completing this project will make sure we can continue to provide these essential services."
Project Background
The original sewer tunnel system was built in the late 1960s at the same time as the Plum Island Wastewater Treatment Plant. It was designed to collect wastewater from the existing near-surface sanitary sewer collection system that at the time emptied directly into the Charleston Harbor and instead carry the wastewater to Plum Island for treatment.
Over the last 40-plus years, the highly corrosive nature of the wastewater damaged the carrier pipe inside the original tunnel and portions of the tunnel structure itself. In addition, population growth and the resulting increase in actual and projected wastewater flows have exceeded the tunnel's design capacity.
Replacing the tunnel system is one of the largest infrastructure projects in Charleston Water System's history. To date, three sections of the original tunnel system have been replaced at a cost of $135 million — a section on the east side of the Charleston peninsula, another on the west side, and a third under the Harbor. A fourth section was added to collect wastewater from Daniel Island.
The West Ashley Tunnel is the last section of the original tunnel system to be replaced. This fifth phase will bring the total project cost for all phases to approximately $186 million. The West Ashley Tunnel is funded by a 2010 bond issue and supported by current sewer rates.
Charleston Water System has conceptual plans for a sixth phase extending into West Ashley, but has not determined if or when this phase will be built.
Project Team
The West Ashley Tunnel Project design team included Charleston Water System staff, Black & Veatch, Hussey, Gay, Bell & DeYoung, and Hazen and Sawyer.
Source: Charleston Water System