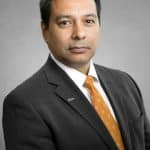 John Daza, PE, PMP, joined HNTB Corp. as senior project manager-rail and associate vice president, based in the firm's New York City office.
Daza brings more than 20 years of structural engineering experience in the design and construction of complex transportation projects. His background includes project, program and construction management services for rail and transit systems, bridges, tunnels, roadways and related facilities. Among his many accomplishments is the reconstruction of the roadway network around the World Trade Center site.
"John has a deep understanding of the region's infrastructure network and is a proven leader in developing innovative solutions to challenging projects as our clients work to maximize existing rail transit systems, add much needed new capacity and enhance safety," said Thomas J. Spearing III, HNTB's New York office leader and senior vice president.
Daza's responsibilities include serving as a key point of contact for clients as well as managing implementation of rail transit projects including staffing, quality control and budget management.
RELATED: Stone Joins HNTB as Principal Tunnel Engineer
Prior to joining HNTB, Daza was a department manager and senior associate at another major consulting firm. In that role, he led the structural engineering design for railroad bridges and highways, transit station rehabilitation and other transportation facilities as well as structures for education, parks and recreation throughout the New York metropolitan region.
Daza is a professional engineer in New York and New Jersey, and certified as a project management professional. A member of the American Society of Civil Engineers and the American Society of Highway Engineers, Daza holds a bachelor of science in civil engineering from the State University of New York, Buffalo.