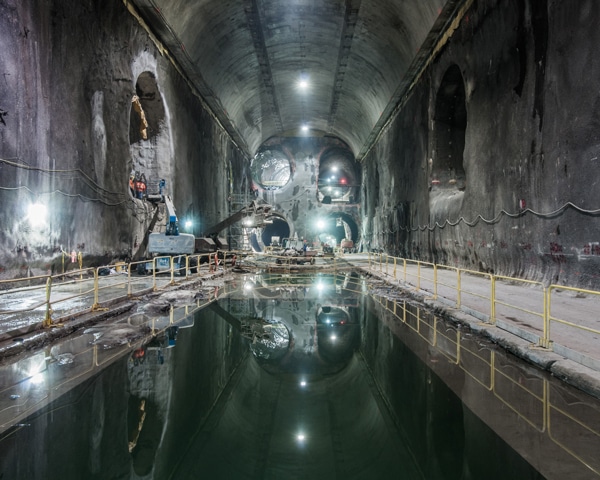 This December, the construction and infrastructure firm Dragados USA will celebrate 10 years of operations in the United States. Since the American subsidiary was established in 2005, Dragados USA's market share and financial position have increased steadily as the company has successfully completed transportation, mass transit, dams and water projects across the United States.
Over its 10 years of work in the United States, Dragados USA has earned a reputation for unbeatable quality, innovation in engineering and high standards of safety. These values are critical to building the solid, long-term relationships that drive Dragados USA's customer-oriented business model.
Project Highlights
The projects built by Dragados USA are recognized by their sheer size, technical intricacy, use of the latest technologies, and innovation to resolve technical challenges. During the company's decade of American operations, project highlights include:
Portions of the East Side Access Project in New York, New York, which is one of the largest public works projects ever undertaken by the Metropolitan Transportation Authority and will link Long Island Railroad commuters with direct access to Grand Central Station. Dragados USA worked to excavate and partially line 32,000 ft of TBM-excavated 22-ft diameter twin tunnels from 63rd Street to 37th Street in Manhattan, as well as excavate two caverns (60 ft x 60 ft x 1,143 ft) under Grand Central Terminal, which required additional TBM excavation to expand each of the twin tunnels into four and provide a two-level access to the future station platforms at each of the caverns.
The I-595 Expansion Project in Ft. Lauderdale, Florida, which was a $1.8 billion P3 project that included shoehorning three new 10.5-mile long reversible toll lanes into the middle of a six-lane interstate highway. This massive project included work on 63 bridges, while minimizing disruptions to up to 200,000 daily vehicles. Operating through Florida's first public-private concessionaire-agreement partnership, Dragados USA completed construction on schedule in September 2014.
The New Harbor Bridge in Corpus Christi, Texas, which will be the longest main span cable-stayed bridge in the United States;
The Calaveras Dam project in Sunol, California, which will replace the current structurally unfit dam built in 1925 with a new design able to withstand earthquakes on the Calaveras Fault and that increases reservoir capacity by 18.6 billion gallons over current levels; and
The California High-Speed Rail Construction Package 2-3, which will build a 60-mile route located within the counties of Fresno, Tulare, and Kings and the cities of Hanford, Corcoran and Allensworth.

Dragados USA History
Dragados USA is wholly owned subsidiary of Dragados and part of the ACS Group – a leading international construction and engineering company with operations in over 68 countries. Leveraging the resources of these experienced partners allows Dragados USA to provide engineering and construction expertise in managing large, complex projects.
Since its first highway projects in New York in 2006, Dragados USA has expanded its operations and offices across the country to include Massachusetts, North Carolina, Florida, Puerto Rico, California, and Washington.
Dragados USA's growth further accelerated with the acquisition of U.S. contracting companies including New York- based Schiavone Construction Co. and John P. Picone, Inc., in 2007 and 2009, and Arizona-based Pulice Construction in 2009.