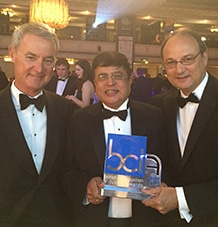 The Fulton Center in New York was awarded one of the highest accolades in the construction industry at the British Construction Industry Awards (BCIA).
The awards recognize outstanding achievement in the construction of buildings, taking account of a wide range of factors including architectural and engineering design. They also consider the construction process itself, delivery to time and budget, and client satisfaction.
/**** Advertisement ****/
Named International Project of the Year, the Fulton Center is an integration of four existing New York City Transit stations and landmark buildings into a streamlined transport hub. As the lead consultant on the project, Arup provided project management, security consulting, pedestrian modelling, multidisciplinary engineering services, and sustainability consulting.
The Fulton Center was built by the Metropolitan Transportation Authority's Capital Construction (MTACC) department and was one of several large projects to improve mobility. Other MTACC projects include the No. 7 Line Extension, East Side Access and Second Avenue Subway.
"Within Arup we have a broad range of skills and experience working internationally on high-profile train stations, which was brought together successfully to deliver this challenging project — the newest streamlined transit hub for the New York subway," said Craig Covil, Project Director for Arup.
Additional details on the Fulton Center can be found here: http://tunnelingonline.com/new-york-mta-project-updates.