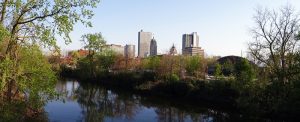 Bids for the Three Rivers Protection and Overflow Reduction Tunnel (3RPORT) in Fort Wayne, Indiana – the city's largest-ever public works project – have been received, according to wane.com. SA Healy–Salini Impregilo was the lowest of five bidders at $187,963,000, followed by Shea–Jay Dee ($205,998,194), Strabag–Walsh ($224,983,000), Traylor–McNally ($225,694,734), and Kiewit–Seli ($229,889,934).
3RPORT is part of an EPA-mandated program to reduce combined sewer overflows into area waterways. The project includes a conveyance tunnel which will reduce the number of CSO occurrences from 71 down to 4 in a typical year. Bids were received on the project on February 16.
RELATED: Tutor Perini-O&G Awarded LA Purple Line Phase 2 Contract
The City of Fort Wayne Utilities is currently evaluating bids for the construction of nearly 5 miles of 16-ft ID finished tunnel that is almost 220 feet deep, a pump station shaft, an upflow/working shaft, a retrieval shaft and nine drop shafts. Construction of the tunnel and shafts will begin in 2017 and be completed by 2021. Black & Veatch is currently working on the design of the pump station which will be bid in 2020.