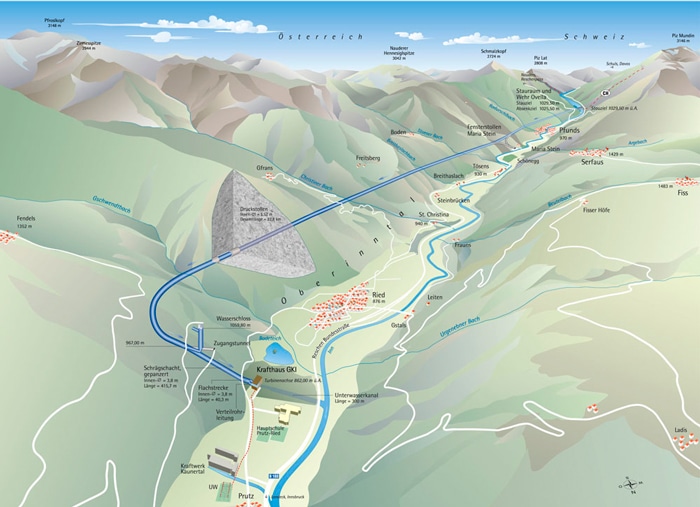 HOCHTIEF Solutions was awarded the contract to construct the "Triebwasserweg Maria Stein" tunnel. The project is a key element of the "Gemeinschaftkraftwerk Inn" power station. The contract value is EUR 132 million. The construction lot comprises driving of a more than 22-km long pressure tunnel and is the biggest and most significant one of the three construction lots of the hydroelectric power station on the River Inn. The tunnel will be completed in mid-2018.
Wilfried Rammler, General Manager of HOCHTIEF Infrastructure: "We are happy to have won another large-scale contract in the Austrian market. This underscores our competence in the construction of sustainable energy infrastructure in Europe."
The pressure tunnel with a total length of 22.6 km and a diameter of 6.5 m will run underground from the reservoir in Ovella to the powerhouse in Prutz. HOCHTIEF will drive the pressure tunnel with two hard rock double-shield tunnel boring machines. The excavation material will be stored near the construction site in order to reduce site traffic to a necessary minimum. The tunnel will be lined with prefabricated concrete lining segments. These reinforced concrete elements will be produced locally in a field factory. In future, the water will be channeled through the tunnel to the powerhouse in Prutz where, once the structure is completed, environmentally friendly electrical power will be generated for more than 100,000 households.