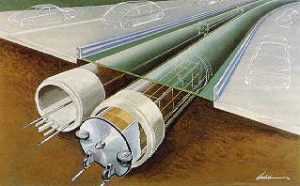 The 7th International Symposium on Underground Freight Transportation (ISUFT) will be held in Arlington, Texas, USA, on the campus of the University of Texas at Arlington, Monday through Wednesday, Aug. 22-24, 2016. Course organizers are currently accepting abstracts for presentations on any of the conference topics.
Topics may include but are not limited to:
• Pipe materials & construction methods
• Financing means, costs and economics
• Propulsion systems
• Automation and electronics
• Capsule and terminal design
• Environmental and social benefits
• Safety and security
• Trenchless & tunneling technologies
• Design of capsules and vehicles
• Legal and environmental aspects
• Safety and security
• Political and institutional issues
• Case studies
• Other topics related to underground freight transportation
Accepted papers will be published in the conference proceedings and will be considered for publication at the ASCE Journal of Pipeline Systems Engineering and Practice.
Abstracts should be submitted by email, as an attached document, in Microsoft Word format to Dr. Mohammad Najafi, Conference Chair, to: najafi@uta.edu.
Abstract should be submitted by Monday, May 2, 2016.
Abstracts should be submitted in English and the following format:
• The abstract should not be more than 500 words.
• Please type all text in 12 point Times New Roman.
• Name of the Author/s should be included, with the presenting Authors name underlined.
• Please include the full contact details of the presenting and corresponding author (s) (Address, Phone, Fax, and Email).