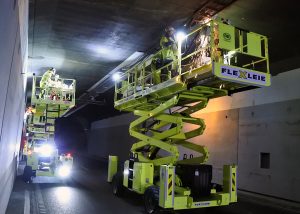 PassiveTec's innovative tunnel fire protection technology has been selected and installed for the renovation of Oslo's Tåsen Tunnel. To achieve a required 120 minutes of fire protection (based on the RWS time/temperature curve), PassiveTec fireboards have been applied as wall cladding in the tunnel.
PassiveTec XT intumescent sealant was used for the expansion/construction joints, together with Fischer FNA II A4 anchors and tunnel coating from Kapyfract AG. PassiveTec Tunnel Liner fireboards are made from fiber-reinforced magnesium and other refractory products. As well as outstanding fire protection performance, these specialist boards are free of hazardous substances, offer excellent stability and durability under humid, wet or freezing conditions and are easy and quick to assemble.
To further increase the speed of installation on the Tåsen Tunnel project, made-to-measure panels were cut to size and coated off site. The 24-mm PassiveTec Tunnel Liner used in the Tåsen Tunnel is also the thinnest and lightest globally RWS-rated board.
Atle Killerud, Technical Manager at specialist fire protection contractor Firesafe, said: "When PassiveTec boards were submitted and tested for use in both tunnel lanes they were found to match – and in most cases exceed – the specification requirements.
RELATED: TBMs Begin Mining Norway's Longest Rail Tunnel
"The boards are currently being installed with the project completion on both lanes expected during the early part of 2017. The project was handled in a professional and efficient manner, with materials being delivered on time."
Delivered by main contractor Peab Norway for Statens Vegvesen, the $29.3 million Tåsen Tunnel project is part of a comprehensive national tunnel upgrading  program that will see more than 200 tunnels across Norway being upgraded by 2019. The upgrading works includes fire protection, new emergency exits and replacement of signaling and service equipment
PassiveTec director Simon MacDonald said: "We are naturally delighted that PassiveTec TunnelLiner was selected for this important city-centre infrastructure project.
"This contract again demonstrates that with its ability to achieve superior fire and insulation protection in harsh environments, PassiveTec TunnelLiner continues to set new standards for fire protection in tunnels."
RELATED: Hydro Project Marks Return of TBMs to Norway