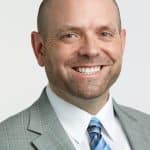 James E. Parkes, P.E., has joined Schnabel Engineering as a senior associate in the new position of Technical Tunneling Director. Based in Baltimore, he will be responsible for positioning and growing the company's national tunnel and underground engineering services practice.
Most recently with WSP, Parkes' 18 years of experience enhances this key role, to which he brings a combination of technical leadership, operations and personnel management, strategic planning and business development skills. Specific to project design and management, Parkes has a diverse portfolio of high-profile tunnel, shaft, dam, water resources, light rail and transportation infrastructure projects located throughout the United States.
A graduate of Virginia Tech with bachelor's and master's degrees in civil engineering, James is a licensed professional engineer in Maryland, District of Columbia, Florida, Georgia, Pennsylvania, South Carolina and Virginia. He is a member of the Underground Construction Association of SME; the American Society of Civil Engineering; the Association of Dam Safety Officials, and the United States Society on Dams.
RELATED: Schnabel Opens New York City Office
An Engineering News-Record Top 250 design and Top 200 environmental firm, Schnabel Engineering provides specialized expertise for the planning, study, design and construction of geotechnical, dam and tunnel engineering projects in the United States and abroad. The employee-owned company has worked in more than 140 countries since its founding in 1956 and has pioneered the use of new technology, foundation systems and sustainable infrastructure. Headquartered in Glen Allen, Virginia, Schnabel's workforce exceeds 300 people in 20 locations.
Schnabel Engineering's tunneling and underground engineering services group was established in 2006 by a merger with Lachel & Associates. The group, which operates out of four offices (Baltimore, Md.; Dallas, Texas; Sterling, Va.; and Morristown, N.J.) specializes in design and construction management services for tunnels and other heavy civil construction projects in the areas of transportation, water/wastewater infrastructure, and hydroelectric power.
RELATED: Jacobs Engineering to Acquire CH2M