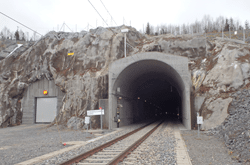 As engineers and construction crews undertake a project to upgrade Sweden's railway infrastructure, PENETRON's team in Scandinavia delivered time-tested products to ensure the complex of newly excavated tunnels will remain waterproof for years to come.
Upon completion in 2030, the historic project on Sweden's Baltic Coast will enable express train traffic on newly constructed rail lines between northern and southern cities. The new system will ultimately boast 36 new rail stations, more than 100 bridges, and 24 tunnels carved into the spectacular countryside.
The new tunnel walls are being sealed with a special PENETRON ADMIX Enhanced Shotcrete (PAES) to prevent penetration of water in the concrete shafts. The application of PENETRON's low permeability waterproofed concrete follows several years of testing to ensure compliance with Sweden's rigorous environmental standards. PAES is applied in a one spray wet shotcrete lining process, with a layer thickness of 150 mm.
"The harsh climate and freeze-thaw cycle in the Scandinavian countries present a unique engineering challenge, and we're delighted our Penetron products are proving to be an integral step in this historic project in Sweden," said Robert Revera, President and CEO of The Penetron Group.
PENETRON's permeability-reducing crystalline technology has been used in numerous tunnel projects in countries across the globe, including Australia, Brazil, Chile, Dominican Republic, Russia, Ukraine, and the United States. Penetron products have been employed at several major sites in Sweden, including an expansion of one of the world's largest paper mills in 2016 and, more recently, for the renovation, repair and expansion of a concrete parking garage in Stockholm completed in May 2017.
The PENETRON Group is a leading manufacturer of specialty construction products for concrete waterproofing, concrete repairs and floor preparation systems. The Group operates through a global network, offering support to the design and construction community through its regional offices, representatives and distribution channels.
RELATED: Using Waterproofing to Boost Shotcrete Use in Underground Construction