Seattle Tunnel Partners is set to repair damage that occurred at the Port of Seattle's Terminal 46 during the Jan. 12 barging incident. STP will remove 22 damaged timber piles from the pier at the northern edge of Terminal 46 and replace them with temporary piles. Work is expected to begin in the coming days and could take up to 10 days to complete, according to STP.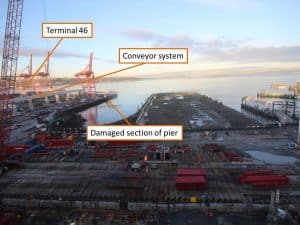 WSDOT and STP continue to work together to address the "suspension for cause" that halted tunneling and barging operations on Jan. 14. STP crews are prepared to remove excavated soil by truck if tunneling resumes before the pier at Terminal 46 is repaired.
Ground Monitoring Update
It's been approximately two weeks since Seattle Tunnel Partners turned off the deep dewatering wells that were used to control groundwater near the access pit. There was some upward ground movement in the days following the shut-off, but the movement quickly stabilized. The degree of movement tapers off over several city blocks and is uniform in nature, which poses little to no risk of damage to the Alaskan Way Viaduct or buildings.
Some ground survey points in the vicinity of the pit show as much as 3/5 inch of upward movement since Jan. 22 when STP began turning off the wells. Some of the Alaskan Way Viaduct columns and buildings show similar movement.
STP had additional, shallower dewatering wells in operation during the tunneling machine repair effort. They turned off the final two shallow wells on Thursday evening. STP and WSDOT continue to monitor the ground, buildings, utilities and the viaduct.