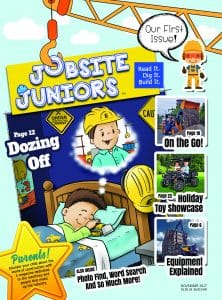 Benjamin Media Inc., publisher of TBM: Tunnel Business Magazine and other excellent trade publications (including Trenchless Technology and Utility Contractor), recently announced its latest project — Jobsite Juniors — a bi-monthly magazine designed to get kids excited about the construction industry, while teaching them all about the machines and people that make up the market. Departments such as "Equipment Explained," "Meet the Crew," "Project Spotlight" and "On the Go!" will help make construction accessible to young readers while keeping it enjoyable and interesting. Activities like hidden pictures, word searches and coloring pages (just to name a few) will add even more opportunities for construction fun.
"From big machines working along the road to jobsites filled with busy workers and giant dirt piles, kids love construction. This is our opportunity to teach them all about it in a fun way," said Pam Kleineke, managing editor for Jobsite Juniors. "We're excited about this chance to reach a young audience and perhaps even spark an interest in a career in the trades."
For more information on Jobsite Juniors or to subscribe, click here.