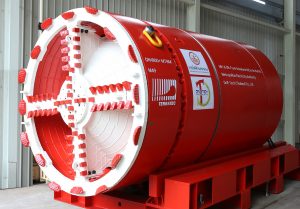 On Aug. 26, 2016, TERRATEC successfully completed the factory acceptance tests of a new microtunneling system in its assembly plant in Guangzhou, China. The testing was attended by representatives of the buyer, Drill-Tech Thailand Co. Ltd. The equipment will be used in the execution of a Cable Project in Bangkok for Metropolitan Electricity Authority (MEA).
RELATED: TERRATEC TBM Passes Mid-point in Laos
The MTBM System can push standard DN1800 concrete pipes and it can be expanded to work with DN2000 pipes, with pipe lengths of 3,000 mm. TERRATEC scope of supply includes the shield, the main jacking station, intermediate jacking stations, the slurry transport system, a digital guidance system and a control container with the operation panel and power pack.
RELATED: TERRATEC MTBM Completes Project in Thailand
­
The system was designed by TERRATEC at its engineering center in Australia. The production and assembly were done in TERRATEC's plant in Guangzhou with key components coming mainly from Australia and Japan. The machines are to bore in the typical Bangkok soil composed of clay, stiff clay and very stiff clay. Some state-of-the art features include a cone crusher integrated into the cutterhead structure, the Enzan-Terratec laser guidance system or the data recorder and remote access for the complete tunneling system.