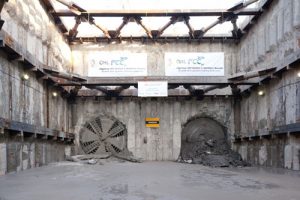 A special event was held June 6 to celebrate the completion of trackwork in the new Toronto-York Spadina Subway Extension (TYSSE) tunnels and stations where a total of 17.4 km of track and four sections of special track have been installed. Dignitaries visited the site of the future Vaughan Metropolitan Centre Station, where they walked down into the station to track level and participated in a ceremonial tapping in of the last clips that hold the rails in place.
Among those participating in the ceremony were: Kathleen Wynne, Premier of Ontario; Steven Del Duca, Ontario Transportation Minister; Adam Vaughan, Parliamentary Secretary to the Prime Minister (Intergovernmental Affairs) and Member of Parliament for Spadina-Fort York, on behalf of the Amarjeet Sohi, Minister of Infrastructure and Communities; York Region Chairman and CEO Wayne Emmerson; and Josh Colle, Toronto Transit Commission Chair and Toronto City Councilor, (Ward 15 Eglinton-Lawrence).
"The Government of Canada understands the important role public transit plays in connecting people to their communities and allowing them to be active participants, both socially and economically. This is why we have committed to double infrastructure investments over the next 10 years, including funding dedicated to public transit," said Vaughan. "The Toronto-York Spadina Subway Extension will significantly improve the efficiency and sustainability of public transit in the Greater Toronto and Hamilton Area. I am pleased to see this project reach another important milestone."
RELATED: TTC's Spadina Line Extension Surges Forward
The TYSSE project is an 8.6-km extension of the Toronto Transit Commission's (TTC) Line 1 from its present terminus at Downsview Station to the Vaughan Metropolitan Centre at Highway 7 in York Region. It will have six new subway stations, three new commuter parking lots and a TTC, York Region and GO bus terminal.
The $2.6 billion TYSSE will improve transit service by supporting a reliable multi-modal transportation network integrated with other transit systems within the GTA. This initiative will promote economic growth, reduce greenhouse gas emissions by helping take cars off the road, and reduce travel times for commuters.
Tunneling was broken down into two main contracts: Sheppard West Station and Southern Tunnels: Awarded Nov. 19, 2010, to Aecon/McNally/Kiewit for $279 million, and Highway 407 Station and Northern Tunnels: Awarded Jan. 19, 2011, to Spanish firms Obrascon Huarte Lain (OHL) and FCC Construccion for $404.4 million. Tunneling was completed in late 2013.
The TTC is the project manager for the extension.
RELATED: Concrete Placing on TYSSE