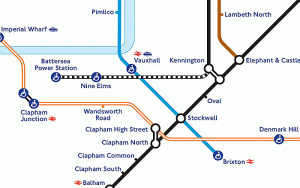 Tunneling to create an extension of the Northern line between Kennington and Battersea has begun, according to metro-report.com. The project represents for the major Tube line extension since the 1990s. Two NFM TBMs will create two 3.2-km underground tunnels to extend the Charing Cross branch of the Northern line from Kennington to Battersea, via Nine Elms.
The TBMs were named Helen and Amy in honor of the first British astronaut, Helen Sharman, and British aviation pioneer Amy Johnson, who was the first female pilot to fly solo from Britain to Australia. The names were chosen by school students.
The Northern Line Extension will enable the regeneration of the Vauxhall, Nine Elms and Battersea areas, spurring economic growth by supporting around 25,000 new jobs and more than 20,000 new homes. Construction is also boosting the UK economy, supporting around 1,000 jobs, including around 50 apprenticeships. As well as two new tunnels, two new stations are being created: one at the heart of the Battersea Power Station redevelopment and another at Nine Elms to the east, serving new developments such as the US Embassy and the redevelopment of New Covent Garden Market, as well as existing communities.
RELATED: Short List Announced for London's Silvertown Tunnel
The Mayor of London, Sadiq Khan, said: "It's great news that we are going to begin tunneling for the Northern Line Extension. Extending the line to Nine Elms and Battersea is going to be a real boost to south London, with the improved transport link helping to provide thousands of homes and jobs for Londoners. I'm also delighted that local schoolchildren have chosen two such inspirational British women as the names for these tunneling machines."
The machines will tunnel at depths of 26 m for six months.
RELATED: Morgan Sindall BeMo JV Appointed to London Underground Framework