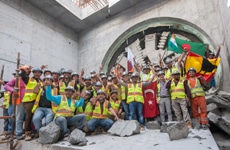 Qatar Rail announced on March 30 the completion of tunneling on the Green Line with the breakthrough of tunnel boring machine (TBM) Al Messila at Education City station. Education City is the last underground station on the Green Line before moving toward the above ground station Al Riffa.
Achieving this major milestone for Doha Metro comes less than 10 days after Qatar Rail celebrated completion of tunneling on the northern section of the Red Line. With the construction progress at Green Line's underground station at 57% and overall tunneling of Doha Metro at 87%, these achievements are a further testament to the progress of the project.
Commenting on the achievement, Dr. Eng. Saad Al Muhannadi, Qatar Rail Chief Executive Officer, said: "Completion of tunneling on the Green Line is yet another major milestone for the project and one we are delighted to have achieved ahead of schedule. Across the project as a whole, we are continuing to make significant progress and as we prepare to move from the construction to systems and architectural works, we are delighted to have been able to achieve all this within the timelines and budgets allocated for this monumental endeavor. This has been possible due to the hard work and dedication of all parties involved.
"I would like to congratulate all those involved in making this happen and as promised, we look forward to sharing many more milestones with you all of which mark the immense journey we are on in delivering this exciting, landmark project to the nation."
RELATED: Twin EPBs Complete Drainage Tunnels in Doha
Tunneling on the Doha Metro Green Line began in October 2014 with six TBMs used to complete the 22 km operational line which has 10 underground stations and one above ground. The Green Line will run for 19 km beneath ground level and 3 km above ground.
The Al Messila TBM, which completed tunneling on the Green Line, was launched in January 2015 and passed through Al Rayyan Al Qadeem, Al Shaqab and Qatar National Library before reaching Education City Station. Once service begins passengers can take the Green Line starting from Al Mansoura Station in the east to Al Riffa Station in the west, passing through 11 stations. It will take approximately 24 minutes to travel the whole line.
The next major milestone for Qatar Rail is completion of tunneling on Doha Metro's Gold Line and later this year its longest line, the Red Line, will also finish its tunnels. Towards the end of this year, Qatar Rail expects to move from construction into systems installation as track, power supply and signaling starts to be installed. At this point it will also start to work on the architectural finishes of the stations of Doha Metro.
Green Line Project Director, Eng. Jassim Al Ansari went on to say, "This milestone marks the end of a series of successful breakthroughs all of which mark the completion of tunneling in a relatively short period of time. Technically, this has meant carrying out many complex operations associated with drilling horizontal tunnels and underground hazards along 33 km of twin tunnels using 6 TBMS. I would like to extend my gratitude to Qatar Rail and its employees who gave us support and guidance on site, as well as the Joint Venture contractors responsible for the project."
Hans Wenkenbach, Chief Operating Officer, Porr Group said, "We would like to thank Qatar Rail for their support throughout the challenging process of tunneling operations. There still remains work to be done until we handover the tunnel to Qatar Rail in November, and we shall remain focused to achieve our three main goals of safety, quality and time. I am confident that with our excellent team, we can continue this success story and will, in a spirit of good cooperation with Qatar Rail, soon celebrate more achievements."
The first phase of the Doha Metro project is expected to be complete in the fourth quarter of 2019, while completion of the Lusail Tram is set for 2020.
By 2030, all the three networks – Doha Metro, Lusail Tram and the long-distance rail, which will link Qatar with the GCC Rail network – are expected to be complete. With the completion of the first phase of the Doha Metro and Lusail Tram, Qatar Rail expects to offer 600,000 passenger trips per day by 2021. By then, 37 metro stations are expected to be complete, with an average journey time of three minutes between adjacent stations.