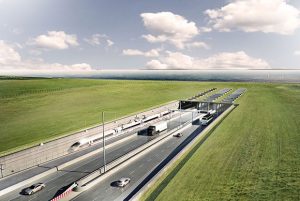 Femern Link Contractors May 31 signed with the Danish Government in Copenhagen contracts for the design and construction of the Fehmarnbelt immersed tunnel, the longest road and rail tunnel immersed in the world between Denmark and Germany.
The group won the three lots on the tunnel, the factory building precast tunnel and ramps and access bridges. The total amount of the three contracts is 3.4 billion ($3.79 billion) euros.
RELATED: Fehmarnbelt Tunnel Contractors Appointed
The consortium comprises VINCI Construction Grands Projets (leader of the first two tunnels lots), Per Aarsleff Holding (representative of the third batch of ramps), Soletanche Bachy International, CFE, Wayss & Freytag Ingenieurbau, Max Bögl Stiftung & Co., BAM infra and BAM International.
The group has appointed Dredging International (a subsidiary of DEME group) as a subcontractor for dredging tunnel contracts and COWI as consultant for three contracts.
At 18 km long and connecting the Danish region of Lolland-Falster in the German region of Schleswig-Holstein, this immersed tunnel will be the longest road and rail tunnel submerged in the world. It will connect the German and Danish coasts in 10 minutes by car and 7 minutes by train, instead of one hour by ferry or a detour of 160 km from the Danish region of Jutland.
RELATED: Final Segment Placed for Virginia's Elizabeth River Tunnels
The Fehmarnbelt  tunnel project is currently one of the largest infrastructure projects in Europe. When delivered, it will develop trade and tourism in Northern Europe.
These contracts are conditional. The final contracts are signed and the owner is engaging with the joint venture, but the start of work will take place only after the establishment of the German construction permits.
Construction works are expected to start in January 2018. The construction of the Femernbelt link will take approximately 8.5 years