It is hard for this author to imagine, but this issue marks the 20th anniversary of TBM: Tunnel Business Magazine. In late 1997, Benjamin Media publisher and president Bernie Krzys recognized a void in covering the burgeoning North American tunneling market. Krzys, who had a background in the industry having served as president of American Augers, which manufactured small TBMs and microtunneling equipment for a time in the 1980s, had already launched Trenchless Technology in 1992. In January/February 1998, TBM: Tunnel Business Magazine debuted.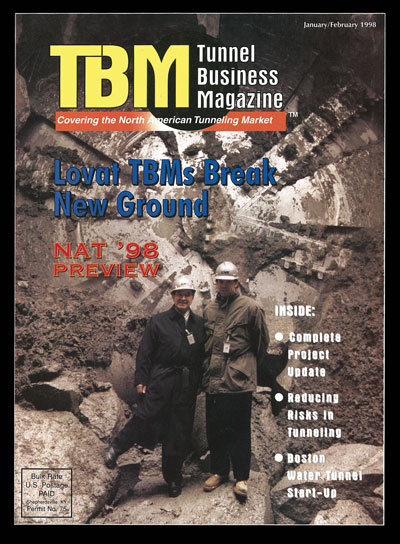 That first issue featured Lovat Inc., the Canadian TBM manufacturer, on the cover, with company founder Richard Lovat posing with son Rick Lovat in front a TBM breakthrough. Glancing through the issue, a couple of headlines caught my eye that classify as "blasts from the past": "CTS Unveils TBM for Boston Project" and "Atlas Copco to Phase Out TBM Production." It was also interesting to see an ad from Boretec (now The Robbins Co.) and PB (now WSP). With all the changes in the business, it was interesting to see that the first issue had an article by Randy Essex on geotechnical baseline reports.
I joined the staff in late 1998 with my first full issue being 1st quarter 1999. In 2000, we moved from quarterly to bi-monthly, where we have been ever since. Of course, we have a whole suite of additional offerings, most notably the website (tunnelingonline.com), in addition to social media, email newsletters, webinars, conferences, etc.
In the years that followed I have had the opportunity to meet many of you – the men and women who drive the industry forward – and see the amazing work that you do. In the time I have been with TBM, I have visited well over 40 project sites (I lost track of the exact number a long time ago), including some of the biggest underground undertakings to date – the Big Dig, New York MTA projects, the Niagara Tunnel – as well as unique yet challenging projects – the Russia Wharf project in Boston and the Carnegie Hall expansion project in New York.
Over the years the industry has expanded to meet the tremendous demand for infrastructure in North America, and there doesn't appear to be a slowdown in sight. There are CSO projects being planned all over the country as well as major transportation programs, including the Hudson River Tunnel (arguably the nation's most-needed infrastructure project), and continued buildouts of metro systems in New York, Seattle, Los Angeles and Toronto. California High-speed Rail, Superconducting Maglev and Hyperloop are also in the planning/design stages, which could create even more opportunity going forward.
We are happy to celebrate 20 years in 2018! It is a reflection on the health of this great industry that we have been able to be here more than two decades. And we look forward to 20 more!
Jim Rush, Editor/Publisher