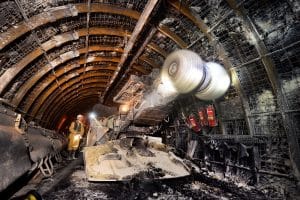 Specialist engineers at IBS Industriemaschinen-Bergbau-Service GmbH, part of the Schmitt Werke group of companies, have been developing roadheaders in Germany for the mining and tunneling Industries for about 20 years. IBS is introducing its two new and innovative product lines: "iRoadheader" by INMINE for the teleremote control of roadheaders from a safe distance and "Starter RS2.0" – smart, state-of-the-art Switchgear.
RELATED: Roadheaders in Tunneling
IBS, together with the newly founded joint venture company INMINE GmbH, will present and demonstrate "iRoadheader," an innovative teleremote operator assistance and profile control system enabling the machine to be operated safely from 200 m away or more. When equipped with this system there is no longer any need for personnel to be present in the danger zone at the face thereby drastically reducing the risk to their well-being. The system can be fitted to any suitable roadheader or similar development machine and/or retrofitted to existing equipment.  iRoadheader utilizes remote controls, high-tech radar positioning, HD camera supervision, audio feedback, smart PLC/computer software and robust hardware to provide high-quality imaging and data for an "at the face" feeling for the remote operator.
Roadheader Starter RS2., a smart switchgear cabinet, includes many new hardware and software features not yet seen in underground coal mining.  This innovative technology with its wide range of functions leads to considerably improved safety, a greater degree of efficiency and much enhanced reliability.  A 15-in. full color interactive display panel enables the user to access vital status information via menu navigation with the aid of 3D graphics.  The system also enables self-explanatory troubleshooting and comes with on-board condition monitoring as standard.  An early warning system has been included to prevent avoidable failures and consequential damage to other components.  As a result, the life-expectancy of key components such as electric motors is increased considerably.
IBS will showcase its latest technology at Bauma 2016, April 11-17, in Munich, Germany.