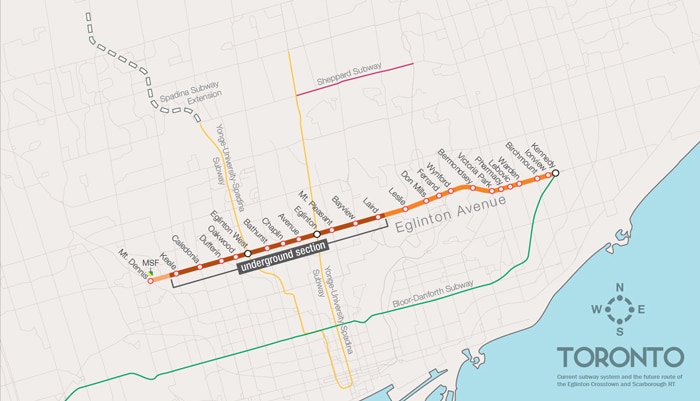 Aecon Group Inc. announced June 9 that Crosslinx Transit Solutions ("Crosslinx") has been selected by Metrolinx and Infrastructure Ontario as the preferred proponent for the development of the Eglinton Crosstown Light Rail Transit project in Toronto. Crosslinx is comprised of: Aecon, ACS Infrastructure Canada, EllisDon and SNC-Lavalin. Each member of the Crosslinx consortium, including related construction and operations and maintenance (O&M) affiliates, is an equal partner with a 25 per cent interest in the equity, development, construction and O&M activities of the project.
Subject to financial close and execution of the project agreement, Crosslinx will be responsible for the design, build, finance, operation, maintenance and lifecycle activities of the 19-km Eglinton Crosstown LRT line for a 30-year term, including 25 stations, an integrated system of track work, rolling stock, signaling and communications infrastructure.
Financial close on the project is expected by summer 2015, with construction on the project anticipated to start in the first quarter of 2016. Testing and commissioning of the line will be confirmed following financial close.
"This is a pivotal time for Canada's nation building, and in particular the unprecedented transit build-out planned over the next decade. For Aecon, this is a historic selection which confirms our strong position in the transit sector, and will contribute significantly to Aecon's continued growth," said Teri McKibbon, President and Chief Executive Officer, Aecon Group Inc. "The Eglinton Crosstown LRT project is one of the largest public-private partnerships globally and we are very pleased to be working together with our partners on the full scope of work for this world-class project."
Separately, in November 2013, and as part of a 50/50 joint venture with ACS Dragados Canada Inc., Aecon was awarded a $177 million tunneling contract by Metrolinx for the construction of a section of the Eglinton Crosstown LRT project.