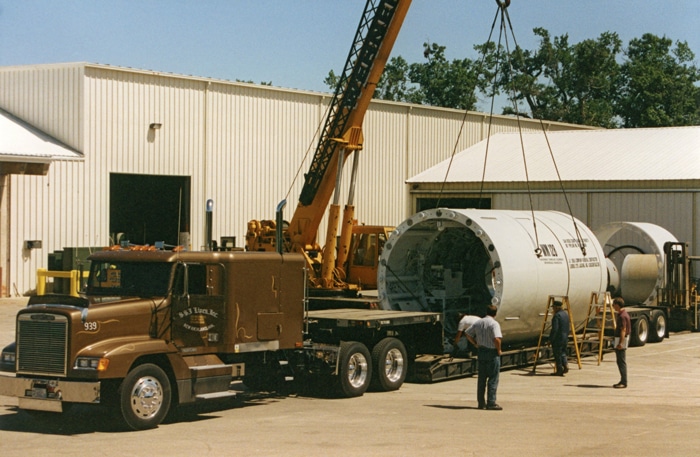 The largest Akkerman TBM recently hit the road, bound for Grand Rapids, Michigan, to add to its 23-year chronicle of successful projects. Akkerman has manufactured excavator shields up to 168-in. OD, but the WM128 stands as the largest diameter TBM ever built. This rugged TBM's continued performance is testament to the superior quality and durability that is inherent in all Akkerman equipment.
The WM128 was manufactured for Elmore Pipe Jacking Inc. of Slymar, California. The 96-in. Pipeline Number 4 Extension Project, owned by the San Diego County Water Authority, contained a 3,700-ft section designed to be open-cut with the exception of a 150-ft crossing. General Contractor J.F. Shea Co. recommended the alignment for trenchless installation and enlisted Elmore Pipe Jacking Inc. as subcontractor. The ring-beam and lagging tunnel featured an S-curve and 2% grade change. The WM128 was outfitted with a carbide cutter face to contend with the abrasive sandstone. Construction on the tunnel began in July 1992 and was completed in February 1993, within an inch of the target.
Almost a decade later in 2002, the WM128 was employed on the 210 Microtunnel Project for the California Department of Transportation to expand Route 210 to 1-15. This project's 1,440-ft ring-beam and lagging tunnel was completed in 78 days at 45-ft depths. A custom spoil trolley with two 10-cu yd dirt buckets transported large volumes of soil, and the buckets were emptied and replaced every 20 minutes.
In 2002 Elmore Pipe Jacking Inc. dissolved and Affholder Inc. acquired the WM128. Affholder rented it to BTrenchless, a division of BT Construction, in 2007 for the Florida Avenue Outfall project in Denver, which resulted in its purchase by BTrenchless. BTrenchless increased the WM128 to 129.5-in. OD to install a 255-ft storm sewer comprised of C-76 RCP under Union Pacific, BNSF and RTD rail tracks. In the summer of 2014, it was used to construct 150-ft of 108-in. ID RCP storm sewer, also in Denver, for the Urban Drainage Flood Control District.
Early this year, the WM128 was sent to Akkerman with the dual objective of getting a tune-up after many years of use and prepared for a project secured by Lowe Construction. At the factory, system run functions were tested, the increase kit was removed, the original drum rollers were rebuilt and re-hardsurfaced, wear items were replaced, and a new set of adjustable gauge cutters were installed.
On April 30, the 77,000-lb TBM left Akkerman destined for the Gerald R. Ford International Airport in Grand Rapids to install 500 ft of 108-in. ID RCP in two drives. Currently, airport storm waters are mixing with organic deicer fluid compound and the run-off is causing excessive growth of biofilm in the discharge location.
Lowe Construction is using the WM128 to create two tunnels to re-direct storm water to Plaster Creek and Thornapple River, distanced far enough away to allow for improved natural dilution of the compound at the new outfall points. A shallow launch shaft located between Thornapple Road and a CSX Railway line will initiate both bores and cover will be added above the pipes' crown. The first 200 ft run under the railway line is now complete. Crews experienced good installation rates, with peak production at six 8-ft length pipes in one shift. T