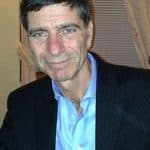 Gary Almeraris has been named the chairman of The Moles' Award Committee. Almeraris has been involved in the heavy construction industry for over 40 years.
Originally from Brooklyn, Almeraris attended Brooklyn Technical High School and is a civil engineering graduate of CCNY. Almeraris began his career with MacLean Grove under the guidance of legendary Moles — Ed Plotkin, Claes Bjork, Tom Peyton, Norman Nadel, Gus Fleischer and Leon Vincent.
Almeraris' initial assignment involved tunneling operations for the four track drill/blast hard rock tunnels for the 63rd Street subway in Manhattan under Central Park and east to Park Ave. Presently, Almeraris is the Vice President of Operations for Skanska USA Civil Northeast and is their recognized leading underground expert.
Almeraris has worked on numerous large scale projects on the East Coast which include subways, water supply and highways, many of which required major underground work. Some of his more challenging projects include the Big Dig, Second Ave Subway and the Fulton St/WTC Transit Hub.
RELATED: Skanska-Strabag Team Breaks Through in Norway's Ulriken Tunnel
Almeraris has always enjoyed building complex tunnel projects in urban environments. His personal accomplishment, of which he is most proud, is his mentoring of the young men and woman starting out in the construction industry. "I am constantly impressed by the technical talent and drive that these young professionals bring to our projects. Now is the time for me to give back and help develop The Moles of tomorrow," he said.
Also on the committee are Paul Schmall (vice chair), Joseph Ferrara (at-large) and Milo Riverso (at-large).