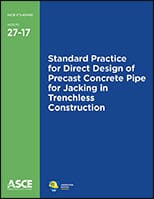 Standard Practice for Direct Design of Precast Concrete Pipe for Jacking in Trenchless Construction, Standards ASCE/CI 27-17, addresses the direct design of precast concrete pipe that will be installed using jacking, a type of trenchless construction. To successfully install pipes using jacking techniques, engineers must design for loading conditions both during and after installation, and contractors need to ensure skillful placement, as well as precise fabrication of pipes.
This book covers piping intended for the conveyance of sewage, industrial wastes, stormwater and drainage, as well as for utilities and access ways. Design and analysis methods are considered for the interaction between pipe, soil and group envelope, and procedures for calculating the required reinforcement in the pipe wall are included. Appendixes offer standard practice for manufacturing suitable pipe, managing jacking operations, and estimating the required jacking force.
RELATED: ASCE, UESI to Publish Pilot Tube/Guided Boring Manual
This Standard, a revision of ASCE 27-00, is useful as a reference to civil engineering design professionals, consultants, owners and transportation officials that plan to use pipe jacking in trenchless installations.
About the American Society of Civil Engineers
Founded in 1852, the American Society of Civil Engineers (ASCE) represents more than 145,000 members of the civil engineering profession worldwide and is America's oldest national engineering society. ASCE's mission is to provide essential value to our members and partners, advance civil engineering, and serve the public good.
To purchase online visit the ASCE Bookstore
RELATED: ASCE Report Card: U.S. Infrastructure Gets D+