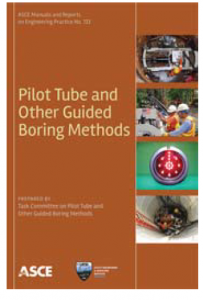 Engineers use pilot tubes and other guided boring methods to install utility pipelines under roads, railroads, constructed and natural structures, and other surface obstacles. ASCE's new manual of practice 133, Pilot Tube and Other Guided Boring Methods, covers the design and installation of these pipelines. The pilot tube method is a multistage technique of accurately installing a pipe to line and grade by use of a guided pilot tube followed by upsizing to install the pipe.
An effective tool for the accurate installation of small diameter pipelines, pilot tube and guided boring methods are detailed in MOP 133. Chapter topics include project planning, site and geotechnical assessment, shaft design, pipe characteristics and design, contract documents, and construction aspects. Engineers, contractors, and utility owners looking to install, replace, or upgrade utility pipelines will find this book an important guide.
RELATED: ASCE, UESI to Publish Pilot Tube/Guided Boring Manual
Founded in 1852, the American Society of Civil Engineers (ASCE) represents more than 145,000 members of the civil engineering profession worldwide and is America's oldest national engineering society. ASCE's mission is to provide essential value to our members and partners, advance civil engineering, and serve the public good.
Click here for more information or to purchase the manual.
RELATED: ASCE Publishes Updated Standard for Concrete Pipe Jacking