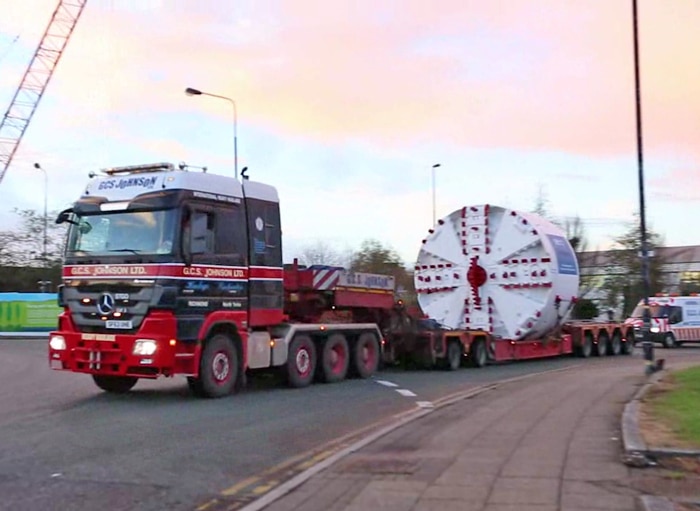 Balfour Beatty has taken delivery of the largest Earth Pressure Balanced tunneling machine in the United Kingdom as part of a £32m ($50 million) project to improve water quality in the Manchester Ship Canal for its customer, United Utilities.
The 140-tonne (154-ton) machine is designed for operation in soft ground conditions containing water under pressure, differing from other large tunneling machines that operate in dry conditions. It was driven from Staffordshire to the Manchester site before being lifted down into one of the three 30-m (100-ft) deep shafts the company has constructed as part of a project to prevent undiluted sewage entering the ship canal.
Balfour Beatty's supply chain partner Murphy's will now start tunneling under the Trafford Parksite, including a road, to create a 3.66-m (12-ft) wide, 700-m (2,300-ft) long tunnel. The company is also constructing a 35-m (115-ft) wide, 12-m (39-ft) deep screening facility and a 30-m (100-ft) deep stormwater detention chamber.
The Trafford Park sewer scheme is being carried out by Balfour Beatty Utilities Services for United Utilities and is one of six similar projects being carried out along the Salford and Eccles corridor, with the aim of improving water quality in the Manchester Ship Canal.
Film footage of the delivery of the tunnelling machine, known as 'Gloria', can be seen on the United Utilities YouTube channel here.