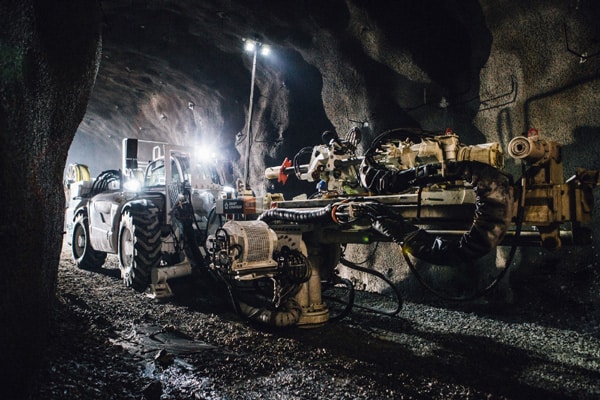 Boart Longyear announced the launch of the new MDR700, the next-generation underground coring rig with advanced mobility. The MDR700 is a powerful rig that utilizes proven Boart Longyear underground exploration technology like the LM 700 feed frame and offers wide drilling angles, quick setup, easy operation and maintenance, advanced mobility and engineered safety controls.
/**** Advertisement ****/
The next-generation design of the integrated positioner and turntable offers extremely wide drilling angles and impressive reach to make positioning and drilling a series of holes easier. The rig features sophisticated articulations with three turning points so you can drill 270 degrees horizontally and vertically up to vertically down. The MDR700 also allows you to drill in a spherical manner without having to reposition the unit.
Setup is quick and easy with the fully hydraulic positioning system and handheld remote controller. Rig moves are faster and easier with the four-wheel drive diesel engine-powered Manitou carrier. Operating the MDR700 and the rod handler is smooth and easy when paired with the optional Drill Control Interface (DCi). And the MDR700's maintenance-friendly layout provides easy access for hydraulic servicing.
The carrier features three available steering modes – four-wheel, two-wheel and crab-like movement – so maneuvering the rig underground is easier and faster. The four-wheel steering allows for better turning radius in restricted spaces. The two-wheel steering is for on-road driving. And the crab-like movement makes the carrier agile for lateral approaches and delicate exits.
The MDR700 is powered by a 90kW electric motor and features the proven Boart Longyear LM 700 feed frame delivering 81.4kN of pullback. The MDR700, coupled with the proven HQ rotation unit, gets you to the target productively in all coring diameters up to HQ.