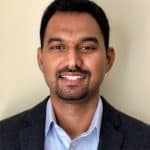 Brierley Associates welcomed Ashok Stanley to the new Chicago office. Stanley is a professional engineer with more than 14 years of experience in structural engineering. His experience spans various construction arenas including Heavy Civil (Underground Infrastructure), Industrial (Power & Utilities, Energy), Mines (Shafts & Slopes), Residential (High-Rise), Retail and Institutional.
/**** Advertisement ****/
In the last eight years, his area of focus has been in underground design and construction, project engineering, procurement, field support and steel fabrication support for various tunnel and mine construction projects in North America. He earned his bachelor's in Civil Engineering from PSG College of Technology and master's degree from University of Texas, Arlington.