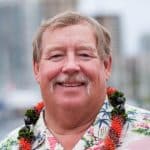 Brierley Associates celebrated its expansion in Hawaii with the welcoming of Don Painter, Senior Tunnel Construction Professional, and the opening of its newest office.
After successfully serving as the Project Manager for Southland Mole JV during construction of the Kaneohe Kailua Sewer Tunnel (KKST), an approximately 3-mile long gravity sewer tunnel from the Kaneohe WWPTF to the Kailua Regional WWTP, Painter has rejoined Brierley Associates. He will be based in Honolulu to serve the firm's island clients and grow the existing infrastructure practice in the Aloha State.
Painter has over 43 years of experience, including almost 20 years working with Brierley Associates on various projects, including as Senior Tunnel Consultant from 2005-2008. In addition to his recent assignment at KKST for the City and County of Honolulu, Painter previously served as General Tunnel Superintendent for the H3/Haiku Tunnels on Oahu.
Painter's extensive experience with conventional and tunnel boring machine (TBM) tunnel construction for wastewater, water and transportation projects utilizing open (main beam) and shielded TBMs, as well as single pass and two-pass tunnel lining systems, brings to Brierley Associates a unique constructability knowledgebase.
AJ McGinn, President and CEO of Brierley Associates, remarked: "As a contractor building nearly 20 tunnels amounting for over 100 miles, Don is a well-known entity in the tunneling industry and we welcome him to the Brierley family."
The new office is located at: 1003 Bishop Street, Suite 2700, Honolulu, HI 96813. Phone: (808) 237-2459. Email: dpainter@brierleyassociates.com.
RELATED: Big Bore in Hawaii: Robbins TBM Sets New Standard for Aloha State