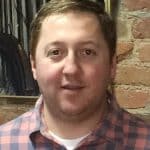 DSI Tunneling LLC announces the addition of Mike Burnson, P.E., to the tunnel engineering staff as Civil Structural Engineer.
Burnson joins DSI following 9 years of service at Kiewit Infrastructure Co. where he developed multiple skills in design and construction supervision of complex underground structures. Burnson's experience is in the application of sequential excavation methods (SEM) incorporating the use of DSI lattice girders, spilling, pipe canopies, bolts and other soil reinforcement techniques. Additionally, Burnson has supervised shotcrete placement, equipment selection, safety planning, quality assurance and management support, including SEM product selection and estimating.
RELATED: DSI Signs Agreement with NMP of Sweden
As a graduate of Purdue University, Burnson provides an added dimension to DSI's tunnel engineering group with significant construction experience that will provide insight and leadership as DSI further expands directly into SEM design and product sales across the Americas.
Burnson will be based in DSI's Louisville, Kentucky, location where he will add directly to the tunnel design staff and travel with DSI's sales leadership team to further the company's expansionary role in design and installation of SEM products.