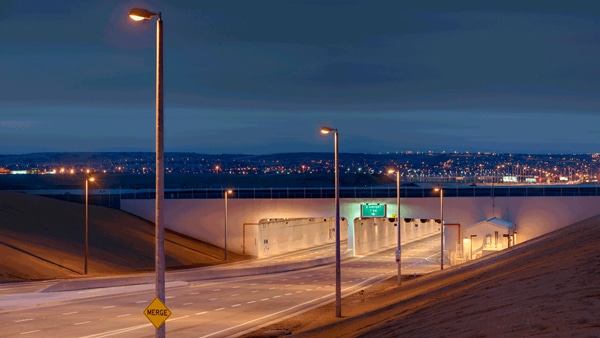 CH2M received the Award of Excellence at the Canadian Consulting Engineering Awards gala on Oct. 23, hosted by the Association of Consulting Engineering Companies (ACEC) and Canadian Consulting Engineer (CCE) Magazine. The prestigious awards are held annually in Ottawa, Ontario, to recognize and celebrate the engineering industry's best.
CH2M's transportation team in Calgary, led by Josh Bolderheij, P.Eng., accepted the award for the company's role as Prime Consultant on the Airport Trail Tunnel project and as sub-consultant to Associated Engineering on the Calgary International Airport's Runway Expansion project. The combined projects were chosen from 64 submissions.
Jury comments included, "The complexity of designing a runway to accommodate the new large aircraft on top of a tunnel was impressive, especially as there were no Canadian codes or standards for it. They also introduced LED lighting for the Category IIIA runway lighting — a first in North America."
"CH2M is delighted to be considered among the industry's best. We are proud to have worked so closely with our client and consultant partners to successfully deliver these complex projects within a condensed schedule. The City of Calgary's and the Airport Authority's approach to these projects was visionary and it was a privilege to help improve the travelling experience at the nation's third busiest airport," comments Alan Cary, Regional Managing Director, CH2M Canada.
The Airport Trail Tunnel is Calgary's first vehicular tunnel and forms an integral part of the multimodal transportation network in the City's rapidly growing northeast quadrant. The six-lane, 620-m long cast-in-place concrete structure is located beneath the new runway, designed to withstand aircraft landings, and boasts world-leading fire and ventilation systems.
The tunnel extends Airport Trail eastward, and allows for a future light rail transit link to the airport terminal. The tunnel opened to traffic in May 2014; the runway opened the following month and includes a complete airfield system with an aircraft parking apron, taxiways and other related infrastructure.