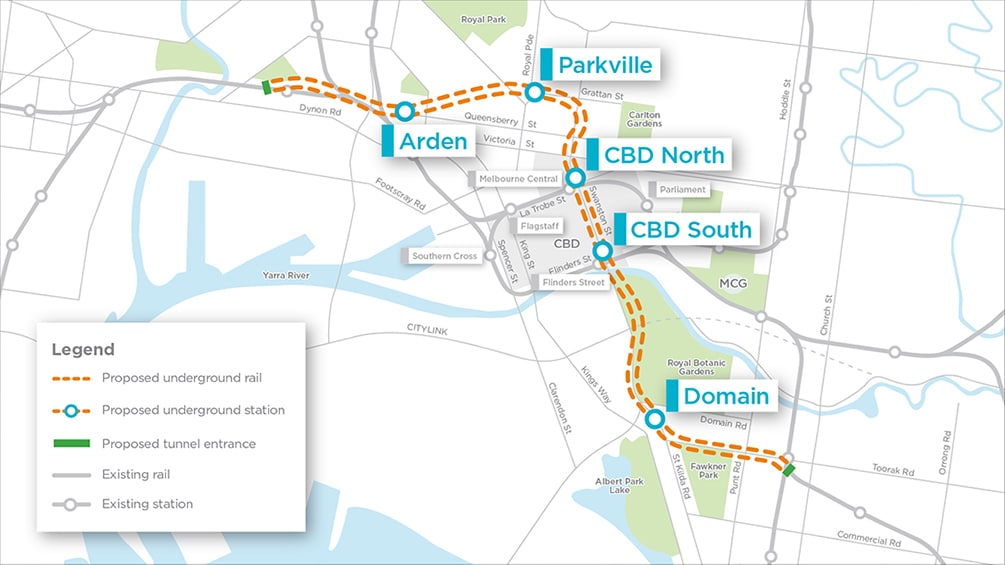 Contractors have been selected to build the twin tunnel entrances of the Metro Tunnel Project in Melbourne, Australia, which will see dozens of high capacity trains pass through them each hour as part of Victoria's biggest ever public transport project.
Minister for Public Transport Jacinta Allan was at the future site of Parkville Station July 16 to announce a consortium comprising John Holland, CPB Contractors and AECOM have been selected as the preferred bidders to deliver the $1 billion ($750 million US) Rail Infrastructure Alliance (RIA) works package.
The new Parkville Station will connect the health precinct and University of Melbourne to the metropolitan rail network for the first time.
More than 1,000 people will work on the construction of Parkville Station, with construction currently focused on creating the underground support structures needed to enable the safe excavation of around 200,000 cubic meters of and soil below Grattan Street.
The $1 billion RIA works package is the last major contract as part of the Metro Tunnel project. The consortium will build the tunnel entrances in South Yarra and Kensington, which will each see thousands of passengers pass through every hour before their trains go underground and onto twin 9 km tracks beneath Melbourne.
New high-capacity signalling will allow trains to pass through the new entrances every two to three minutes in each direction – a vital part of the Metro Tunnel, which will deliver major benefits for suburban passengers.
The project will also slash waiting times and overcrowding across Melbourne's train network by giving Melbourne's three busiest lines a new underground pathway through the city, thereby freeing up space in the City Loop for the benefit of other train lines.
This additional capacity will create room for an additional 504,000 peak passengers each week across the network. The RIA also includes works on train lines out in the suburbs to maximise the benefits of the Metro Tunnel and take full advantage of the extra capacity it creates.
Public spaces near the eastern tunnel portal, including South Yarra Siding Reserve, Lovers Walk and Osborne Street Reserve, will be rejuvenated as part of these works before being returned to the local community once tunnel entrance works are complete.
Around 1,000 people will work on the RIA package, which is part of the $11 billion ($8 billion US) project that is on budget and ahead of schedule. Site preparations ahead of portal construction will commence later this year, with most RIA works expected to be finished in line with the completion of the tunnels and stations, by the end of 2025.
"We're continuing to build the critical infrastructure needed to help Victorians get home safer and sooner every day," Minister for Public Transport Jacinta Allan said. ""The Metro Tunnel will deliver more trains, more often to the outer suburbs and slash travel times to some of Melbourne's key health, education, jobs and tourism hubs."
RELATED: John Holland-CPB JV Awarded West Gate Tunnel in Australia