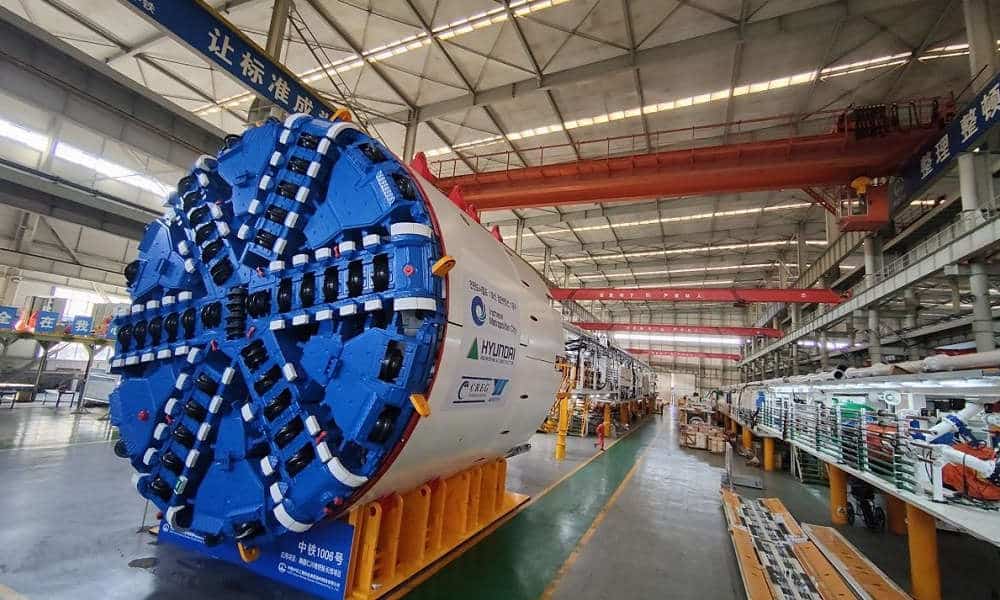 In December 2022, the EPB TBM CREC 1006 developed and manufactured by China Railway Engineering Equipment Group, Co. Ltd. (CREG), successfully rolled off in Zhengzhou, China. The TBM would be used in the Geomdan extension line project of Incheon Metro Line 1 in South Korea. CREC 1006 is also the first CREG TBM exported to South Korea.
The TBM will excavate through weathered rock and gneiss, soft rock and composite strata with upper softness and lower hardness. The maximum rock strength reaches 150MPa, the maximum overburden depth is 44m, and there are several fracture zones along the tunnel. In view of the complex geological characteristics of the project, CREG customized an EPB TBM with an excavation diameter of 7.75m for the client. The TBM is equipped with several key technologies including digital and intelligent cutter design technology, cutter head and cutter perception system, identification of excavation geology, and the operation and maintenance management platform of cutter head and cutters. At present, the TBM is in the process of on-site commissioning and is expected to officially launch in March 2023.
The developed digital intelligent cutter design technology can establish the digital and intelligent design model for cutter head and cutters based on the statistically analyzing the phenomenon of clay clogging and cutter forces under different geological conditions. According to the excavation geology of the Incheon Metro Line 1, the intelligent optimization designs of the cutter head and cutters can be carried out including cutter head opening ratio design, cutter layout and cutter height setting, so as to reduce the risk of clogging during the excavation process. The developed tunnel face geological recognition technology can realize real-time perception of tunnel face geology through the multi-parameter coupling analysis of cutters and the machine, and provide a basis for optimizing tunneling parameters. The developed cutter full-state sensing technology with wear detection accuracy less than 1mm and device protection pressure above 160MPa has solved the problem of online real-time monitoring of cutter status under complex ground.
The TBM project manager says, "Key technologies such as digital intelligent cutter design, real-time monitoring and diagnosis of the full state of cutters, real-time perception of excavation geology, and cutter maintenance management platform are important to safe and efficient tunneling, and we look forward to the success breakthrough of the Incheon Metro Line 1 Tunnel."
RELATED: CREG TBM Breaks through on Inclined Shaft in Phosphate Mine