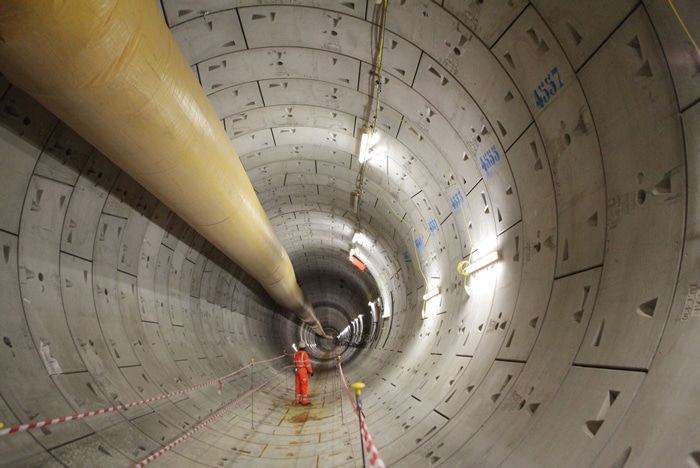 Europe's largest infrastructure project, Crossrail, has unveiled its first completed train tunnel 18 months after the tunneling machine Phyllis started her 6.8-km journey from Royal Oak to Farringdon.
Chief Secretary to the Treasury Danny Alexander, Infrastructure Minister Lord Deighton and Deputy Mayor for Transport Isabel Dedring have become the first visitors to set foot inside the completed train tunnel, entering via what will be the future Crossrail Farringdon station.
They gained a glimpse of how the most significant addition to London's transport network in a generation will look when it opens in 2018, and enclosed a time capsule in the remaining section of Crossrail's first TBM, Phyllis.
Chief Secretary to the Treasury, Rt Hon. Danny Alexander said: "This first tunnel is a key milestone in the journey towards a better transport network in London. Crossrail will transform the way people travel, slashing journey times from the City to Heathrow by around 30 minutes and increasing London's rail capacity by 10 percent. Anyone who travels in London knows Crossrail can't come soon enough and today shows that the project is on track to open in 2018."
Among the items included in the Crossrail time capsule were a 2013 edition of the London A to Z  donated by Phyllis Pearsall's company who TBM Phyllis was named after, a Crossrail "Start of Tunnelling" mining tally and a tunnel phone used to communicate without standard telephone signal.
Crossrail's seven giant tunnelling machines are approaching 25 km out of 42 km of new train tunnels that will link east and west London. Another 14 km of new passenger, platform and service tunnels are being constructed below the new Crossrail stations.
Phyllis is the first tunneling machines to complete her tunnel construction with another three 1,000-tonne, 150-m long tunneling machines due to complete tunneling at Farringdon in the coming year.
Farringdon station will be at the heart of London's rail network, becoming one of the U.K.'s busiest rail stations linking north, south, east and west London and three of London's major airports. More than 140 trains an hour will pass through the station including 24 Crossrail trains an hour in each direction, during peak times.
More than 150,000 passengers a day will use Farringdon station after Crossrail opens and they will be able to travel to Tottenham Court Road in three minutes, Heathrow in just over 30 minutes and Canary Wharf in nine minutes.
When Crossrail opens in 2018, it will transform train travel across London and the south east, delivering faster journey times, boosting London's rail capacity by 10 percent and bringing an additional 1.5 million people to within 45 minutes travel of the capital's major business centers.. Over 200 million passengers will travel on Crossrail each year.