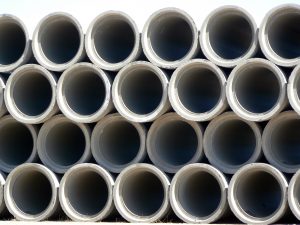 DECAST (formerly Munro Ltd.) has expanded its Utopia, Ontario, facility, now 475,500 sq ft, to meet the increasing demand for microtunneling pipe in Canada. Brad Duguid, Ontario's Minister of Economic Development, Employment and Infrastructure, attended the announcement at DECAST, along with other key players in the industry to officially open the new microtunneling expansion.
Manufacturing microtunneling pipe at DECAST now provides jobs for over 50 people. Expansion is
common for DECAST, in the past 15 years the facility has increased by 300% and the number of
employees has grown by 600% (over 450 jobs created). DECAST expects more expansions and more job creation in the near future.
"I'd like to congratulate DECAST on this significant achievement," said Brad Duguid, Ontario's Minister of Economic Development, Employment and Infrastructure. "Our government's top priority is to build Ontario up with significant infrastructure investments that result in good job creation and strong economic growth. DECAST is a Canadian infrastructure leader, and Ontario is proud to be home to such an innovative industry partner. This is welcomed news, and I wish DECAST continued success in the years to come."
RELATED: Munro Ltd. Changes Name to DECAST Ltd.
Microtunneling is a trenchless construction method used to install pipelines beneath highways,
railroads, runways, harbors, rivers, and environmentally sensitive areas. Canada's more populated,
dense areas are very expensive to maintain and develop with traditional open‐cut trenching methods.
Open‐cut trenching in dense locations is destructive, expensive and risky. Microtunneling requires only two entry/exit shafts, is safer for workers, has minimal impact on traffic, roads, local economy, nature and the environment and has greater transparency in terms of time and cost.
DECAST is a leader in the Canadian infrastructure market, including water transmission, bridges, storm and sanitary, engineered precast products and tunneling. DECAST's state‐of‐the art manufacturing facility is one of the most technologically advanced in the world with the most extensive product line portfolio in the industry. DECAST is a major contributor to local economy and actively promotes Buy Canadian.