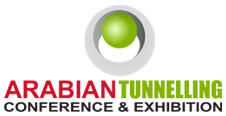 The third Arabian Tunneling Conference (ATC) is set for Nov. 23-25, 2015, in Dubai, United Arab Emirates. This year's theme is "Innovative Underground Infrastructure – Challenges and Opportunities."
ATC 2015 is the premier networking hub of experts and professionals in Tunnelling and Underground Space industry. The key activities of this event are conference and exhibition, as well as a young engineers forum and awards.
ATC 2015 will serve as a gathering of key and influential participants who will network with hundreds of the regional engineering professionals, tunneling experts and global audience of their peers. The conference will address the challenges and explore the opportunities associated with innovative tunneling and underground space infrastructure. The event will connect the international experts and partners in the industry to create innovative sustainable solutions and business opportunities.
The Society of Engineers-UAE in partnership with International Tunnelling and Underground Space Association (ITA) will directly manage and organize ATC 2015. The technical program will present leading-edge technology, updates, significant developments and best practices solutions that support the innovation in tunneling and underground space use for infrastructure, transportation, telecommunication, energy, water, storage, facilities and waste management.
For information click here.