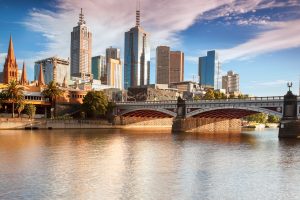 The bids for the Melbourne Metro Tunnel and five new stations are in, as work ramps up on the biggest public transport project in Victoria's history. Acting Premier Jacinta Allan announced in April that the final bids for the $6 billion (AUS) Tunnel and Stations Public Private Partnership (PPP) have been received, and are being assessed by the Melbourne Metro Rail Authority.
The bids are from three shortlisted consortia that include some of the biggest construction firms in Australia and around the world.
Their proposals include more than 100,000 pages of detailed plans to build the 9-km Metro Tunnel and five new underground stations at Arden, Parkville, CBD North, CBD South and Domain.
RELATED: Early Construction Works Begin on Melbourne Metro Tunnel
At the same time, early works on the $10.9 billion mega-project have received formal planning approval, and will ramp up over the coming months.
Piling rigs are now on site at Franklin and A'Beckett Streets and construction crews will begin driving massive concrete poles deep into the ground. These concrete poles will reinforce the walls of the 35-m deep shaft where the new underground station will be built.
Early work will also ramp up at City Square over the coming months to build another underground station, which will have a direct connection to Flinders Street Station, the City Loop and the rest of the train network.
A contract for the PPP is expected to be awarded by the end of the year, in time for construction on the Tunnels and Stations package to begin in 2018.
RELATED: John Holland-CPB JV Awarded West Gate Tunnel in Australia