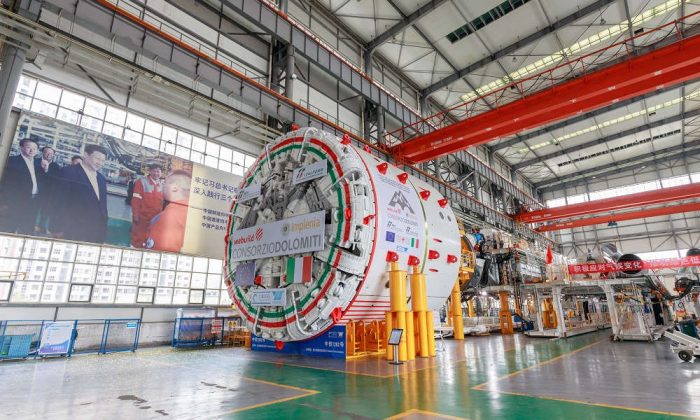 On July 19, 2023, the Φ9.68m dual mode TBM, designed and manufactured by China Railway Engineering Equipment Group Co., Ltd. (CREG) for the Fortezza-Ponte Gardena railway section extending from Brenner Base Tunnel, passed its factory acceptance test in Zhengzhou.
The high-speed railway section is designed with twin single-track tubes. The TBM will excavate 16.13km in total (including left and right lines) with the minimum curve radius of 280m and maximum overburden of 600m. The geology is mainly composed of porphyry and phyllite with the uniaxial compressive strength of 40-80MPa.
In order to better overcome the geology and guarantee a safer and efficient tunneling, the 2000t TBM is equipped with a series of advanced design and technologies: 1) quick mode conversion technology, which will save the time and labor for mode conversion between EPB mode and open mode; 2) green TBM design, which will enable the TBM to automatically adjust the tunneling parameters and equipment start/stop states according to the tunneling condition so as to reduce energy consumption; 3) main drive lifting technology, which will realize long distance overcutting in convergence strata to prevent jamming the TBM.
Upon completion of the project, the new railway line will significantly reduce the travel time for trains carrying people and goods and contribute to improving sustainable mobility in Italy.