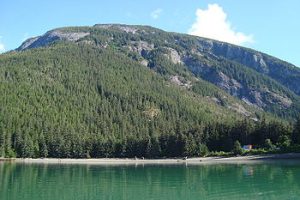 Tutor Perini Corp., a leading civil, building and specialty construction company, today announced that a joint venture between its subsidiary, Frontier-Kemper Constructors, and Aecon Group Inc., of which Frontier-Kemper has a 60% share, has received Notice to Proceed from Rio Tinto for a contract valued at approximately CAD $337 million (USD $274 million) to complete the construction of the remaining 7.6-km section of a 16-km second tunnel at the Kemano Generating Station in British Columbia. The contract value was included in the company's third quarter 2017 backlog.
RELATED: Tutor Perini-O&G Awarded LA Purple Line Phase 2 Contract
The project's scope of work includes the excavation and boring of new tunnel segments, tunnel lining, rehabilitation of existing underground and surface excavations, and installation of intake gates and other related structures. Design work is progressing with site activities to commence in late first quarter 2018. The project is expected to reach completion in the third quarter of 2020.
"We are pleased to work with Rio Tinto on this important project," remarked Dave Rogstad, President and CEO of Frontier-Kemper Constructors. "The project represents our fifth major tunneling project in British Columbia over the past 12 years, and we look forward to delivering an outstanding project."