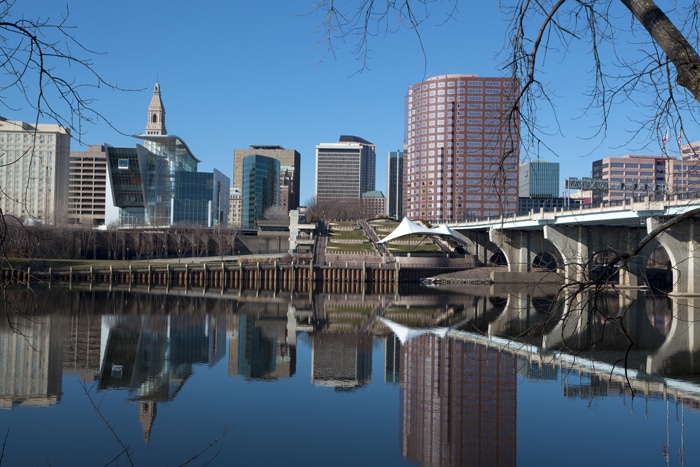 The Metropolitan District Commission (MDC) of Hartford, Connecticut, is initiating the first of two large CSO tunnel projects with the pre-qualification of tunnel contractors for the South Hartford tunnel. A pre-qualification RFQ is expected to be released prior to the end of 2014 with construction bidding scheduled for September 2015. Interested Contractors may register with the MDC's ebid system at www.ebidexchange.com/mdc to receive notifications and access RFQ documents. A non-mandatory pre-submittal meeting will be held with interested contractors shortly after the release of the RFQ. The second tunnel, known as the North Tunnel Extension, is being initiated with a Basis of Design Report in early 2015 with construction bidding planned for 2018.
Work in the South Hartford tunnel contract will include construction of an 18-ft finished (lined) diameter tunnel 21,800 ft in length in deep rock, launch shaft, retrieval shaft, pump station excavation shaft, eight drop shafts, adits, six de-aeration chambers and odor control at potential release points. The launch shaft is to be excavated at 38 ft diameter, the retrieval shaft at 33 ft diameter, and the pump station shaft at 74 ft diameter. The drop shaft diameters vary from 42 to 72 in. The estimated construction duration is 54 months.
At this time, the liner will be at the option of the contractor and may be either a cast-in-place liner or a pre-cast liner. This is subject to change as the design is finalized. The contract documents will include a geotechnical data report, a geotechnical baseline report and dispute resolution board participation. Escrowed bid documents will also be required.
The completion of the overall South Hartford project will also include three additional construction contracts for the fit out of the tunnel pump station along with two consolidation conduit contracts to convey flows from current overflow locations to the drop shafts. The consolidation contracts will be bid in 2016 and the tunnel pump station fit out in 2017.
Both the South Hartford tunnel and the North Tunnel Extension are required components of a Federal Consent Decree and a State Consent Order. The tunnels are major components of the MDC's Clean Water Project and will complement the Hartford water pollution control plant's expansion to treat wet weather flows up to 200 mgd.
Local voters have already authorized funding for the Hartford plant expansion, the design and construction of the South Hartford Tunnel and the Basis of Design Report on the North Tunnel Extension. Supplemental funding is anticipated from the Connecticut Department of Energy and Environmental Protection (DEEP) for all of these projects. With the funding comes the requirement of 6% minority business enterprise and 5% women business enterprise participation.
The North Tunnel Extension will be similar in size and length as the South Tunnel. Final diameter, length and route will be determined in the Basis of Design Report to be concluded in early 2016.