Sirius Minerals Plc announced on June 2 that is has selected preferred contractors, including Hochtief Murphy, for its North Yorkshire polyhalite project. The key components of the project include mine development and the construction of a 23-mile long Mineral Transportation System connecting the mine and a processing and port facility.
"This is the culmination of a huge amount of work by both the successful bidders and those that have been unsuccessful and we thank all of the groups involved for their efforts," said Chris Fraser Sirius Minerals' Managing Director and CEO. "We are delighted to now be moving forward with our selected partners towards the implementation of the project."
The tendering process for these contracts of work has been underway since October 2014.
RELATED: HOCHTIEF Wins $300 Million Tunnel Construction Contract in Qatar
Hochtief Murphy Joint Venture ("HMJV") has been selected as the preferred contractor for the Mineral Transportation System (MTS). HMJV is a joint venture between Hochtief (UK) Construction Ltd. ("Hochtief") and J. Murphy & Sons Ltd. ("Murphy"). HMJV has been successfully constructing major projects and infrastructure in the United Kingdom since 2001. Most recently it completed the $360 million C310 Thames Tunnel as part of the Crossrail scheme in London.
The MTS scope of work is currently for the design and build of the MTS tunnel to link the mine with the materials handling facility at Teesside. The first phase of work will comprise a front-end engineering design (FEED) process and a detailed geotechnical program along the MTS route. From this work a refined estimate based on a full design will be compiled, prior to agreement of the contract sum. This work is expected to take over 12 months to complete.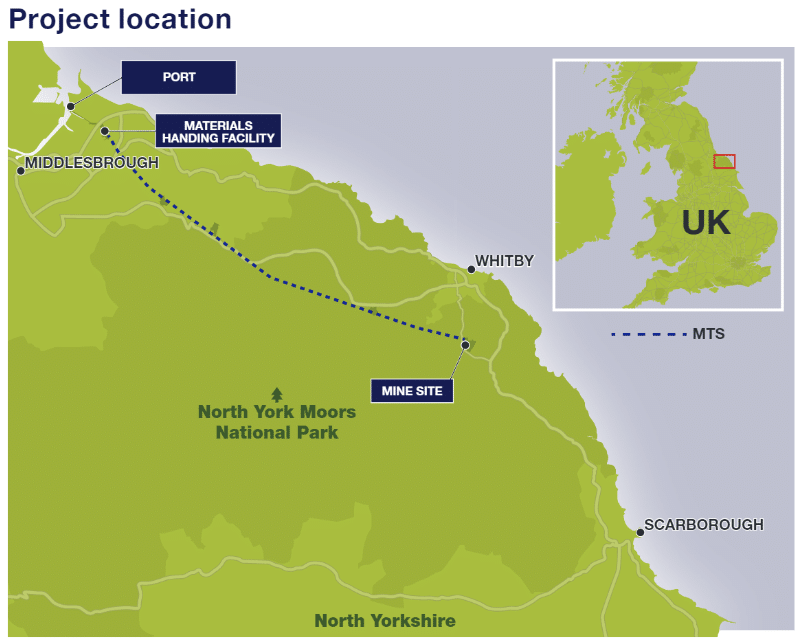 The Mine Site Development (MSD) work was awarded to AMC (Associated Mining Construction) UK. AMC UK is a joint venture company formed between Thyssen Schachtbau GmbH of Germany and Thyssen Mining Construction of Canada, both members of the Thyssen Group, and JS Redpath Ltd. of Canada and Deilmann-Haniel GmbH, both members of the Redpath Group. AMC is a recognized leader in shaft sinking both around the world and in the potash sector. It is currently constructing the K3 shafts in Canada for Mosaic, two shafts for the Ust Jaiwa project for Uralkali in Russia and completed the Scissors Creek shaft at Rocanville in Canada for PCS last year.
The tunnel will be constructed using three TBMs and will house a 1,200-mm (48-in.) conveyor belt to carry mined materials to the processing facility. Most of the alignment lies in competent rock. Precast concrete segments will serve as the liner. Tunneling is anticipated to start in late 2018 or early 2019 and be completed by 2021.