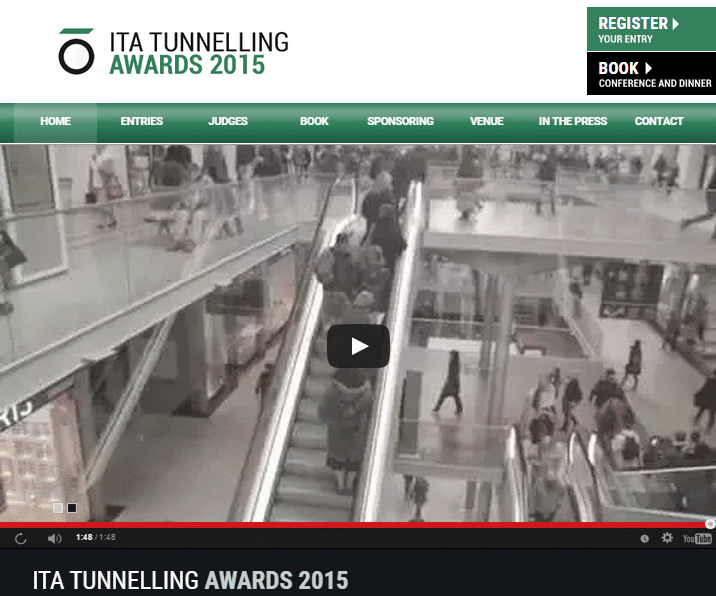 This spring, the International Tunnelling and Underground Space Association (ITA) officially launched its own dedicated Tunneling Awards program, with the objective of identifying outstanding projects in the field of tunnelling and underground space. Through its very first fully organized Awards event, the ITA aims at bringing forward achievements and innovations at an international level.
The ITA Tunneling Awards candidacies are now fully opened; registrations may be made using the following link to the website: https://awards.ita-aites.org.
Candidates will find on the website a video presentation of the ITA Tunneling Awards. They will have the possibility to apply for nine different categories:
 Outstanding Tunneling Project of the Year – Up to €50m ($54 million US)
Tunneling Project of the Year – Between €50m and €500m
  Major Tunneling Project of the Year – Over €500m
Renovation/Upgrading Project of the Year
  Technical Innovation of the Year
 Environmental Initiative of the Year
  Safety Initiative of the Year
  Innovative Use of Underground Space
 Young Tunneler of the Year
With the increasing requirements for better usage of space and resources, the development of underground options are often found to provide relevant and innovative solutions to these challenges.  The ITA awards will allow learning about such remarkable initiatives worldwide and, with no doubt, provide candidates international recognition in a context of demographic growth and blatant infrastructure needs.
The prize awards ceremony will take place on Nov. 19 2015, in a unique underground location: the Hagerbach underground test facility in Switzerland.