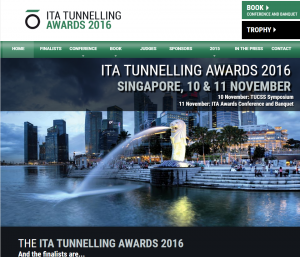 On Nov. 10, in Singapore, a one-day conference will be hosted by the Tunnelling and Underground Construction Society of Singapore (TUCSS) in Marina Bay Sands. On this day, eight high-profile keynote lectures will focus attention on the latest developments in tunneling and highlight new challenges and innovations. The one-day symposium is being held in conjunction with the 2016 ITA Awards, set for Nov. 11.
This conference will bring light and attention to the diversity of global tunneling methods and their implementation in the local Singapore context.
Speakers include:
Tarcisio Celestino, President of ITA : Latest Developments and Innovations in Conventional Tunneling
Nick Shirlaw, Golder Associates : Mixed Ground Tunneling in Hong-Kong and Singapore
Ng Hau Wei, Gamuda Engineering: Challenges in Tunneling in Kuala Lumpur's Kenny Hill and Karstic Limestone Formations
Mark Leggett, Mott MacDonald : Benefits of BIM for Tunneling Projects : A review of Global and Singapore practice
John Davis, ARUP : Advancements and the Future of Design and Construction of Urban Tunnels in South-East Asia
Seved Robin, Bouygues Travaux Publics : Mega Tunnel for Tuen Mun to Chek Lap Kok Airport Link, Hong Kong
Verya Nasri, AECOM : Latest Development in Segmental Lining Design and Construction
Nasri Munfah, WSP/Parsons Brinckerhoff, and Burak Gokce, Yapi Merkezi : Istanbul Straits Crossing Tunnel – A Link between Europe and  Asia
On Nov. 11, awards finalists will present their achievements, giving the audience to discover and learn on the latest technical innovations and state-of-the-art practice. This will provide an opportunity for participants to network and possibly initiate prospective fruitful collaborations and for global and local companies to present their services and technologies. The winners will be announced during the dinner.
RELATED: Finalists Announced for 2016 ITA Tunneling Awards
For more information about the symposium and awards ceremony, click here.
For more information about the trophy itself, created by sculptor Sebastien Langloys of Toulouse, France, click here.