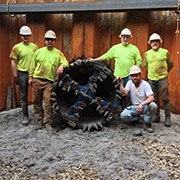 J & J Boring Inc. of Winfield, Missouri, has been involved in a flurry of pipe jacking, microtunneling and guided boring projects as of late. The company's most recent project was to install three inline sanitary sewers, totaling 1,140-lf, under the Wolf River using an Akkerman microtunneling system.
The Wolf River at McLean Siphon Repair project for the City of Memphis, Tennessee, replaced aging triple barrel siphons, first constructed in 1958, and connected to the 84-in. Wolf River Interceptor. The City of Memphis utilized JWS & Associates for the project's design and Magnolia Underground Construction Inc. as general contractor.
The construction site is just upstream of the Mississippi River, which historically experiences seasonal high water levels. With a narrow window of opportunity for the barrel siphon installations, the project demanded a skilled subcontractor. The City of Memphis required that the tunneling subcontractor have previous experience installing a minimum of 10,000 lf of 42-in. diameter or larger jacking pipe at depths of at least 20 ft below grade. J & J Boring Inc.'s 30 years of experience and portfolio of successful trenchless projects qualified the firm as the Wolf River project's ideal microtunneling partner.
RELATED: 24th Annual Microtunneling Short Course Sets New Standard
The alignment for the barrel siphons is located a mere 10 ft below the Wolf River flowline in sandy clay, course gravel and river rock ground conditions. J & J Boring, Inc. consulted Akkerman to review the project specifications and together they selected a new SL44C microtunneling system as the best solution to install the 45-in. ID Flowtite jacking pipe.
Each 380-lf barrel siphon was launched from a single, 20-ft deep shaft with minimal horizontal clearance between each installation. J & J Boring, Inc. completed the three alignments while achieving outstanding productivity with the microtunneling system and maintaining exact line and grade. The first drive was completed on Feb. 17 in just four, 10-hour shifts. Next, the crew mobilized the SL44C MTBM back to the launch shaft to set up for the second run. On this run, J & J was able to exceed the first drive's production rate by installing 220 lf in a single shift. On Feb. 24, the SL44C emerged from the second run in just two, 10-hour shifts. On the final run, J & J logged another 200-lf shift on before its completion in just 22 hours total production time on March 3, with City of Memphis staff onsite to witness the arrival of the MTBM into the reception shaft.
The Mississippi River is predicted to rise 14 ft this week, so the project's completion is not only a great accomplishment but also very timely.
RELATED: Innovative Solutions Help Complete Tricky Microtunneling Project Under Belt Parkway