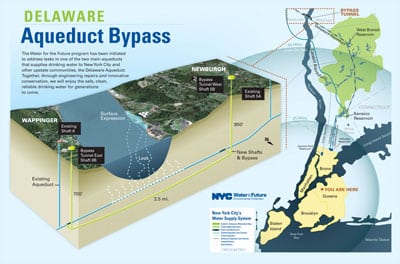 Kiewit/Shea Constructors the apparent low bidder at $706,605,852 for the BT-2 project as part of the Delaware Aqueduct Bypass. Additional bidders were Schiavone with a bid price of $843,114,000 and Skanska/Traylor with a bid price of $911,902,000.
/**** Advertisement ****/
The Delaware Aqueduct Bypass Project is being managed by the New York City Department of Environmental Protection to fix two leaks in the Delaware Aqueduct. The project involves building a 2.5-mile bypass tunnel roughly 600 ft under the Hudson River from Newburgh to Wappinger. The bypass tunnel will replace a portion of the existing Delaware Aqueduct that is leaking in Newburgh, N.Y. Once the bypass is finished, the leaking portion of the existing tunnel will be taken out of service. The project will also use grouting to address a series of smaller cracks in the aqueduct in Wawarsing, N.Y. The two cracked sections of the aqueduct are currently leaking roughly 15 to 35 million gallons each day, depending on the amount of flow in the aqueduct. The bypass tunnel project is split between two contracts. The first (known as BT-1) began in earnest in 2013. Through that contract, two 30-ft diameter shafts will be built on either side of the Hudson River to allow access to the subsurface. The shaft in Newburgh will be built to a depth of 900 ft and the shaft in Wappinger will be built to a depth of 700 ft. BT-1 is expected to be complete sometime in 2016. The second contract (known as BT-2) involves the use of a tunnel-boring machine to drill the 22-ft diameter bypass tunnel.
The project also includes the connection of the bypass to structurally sound portions of the existing Delaware Aqueduct, and the grouting in Wawarsing. That project is expected to reach substantial completion sometime around 2021. The two contracts comprise roughly $1 billion. The bypass tunnel is part of a larger suite of projects known as Water for the Future, which totals roughly $1.5 billion. These projects also include some structural upgrades to the Catskill Aqueduct, the rehabilitation of a system of groundwater wells in Queens, and a number of conservation projects that will help New York City conserve water. Web: www.nyc.gov/html/waterforthefuture/index.shtml