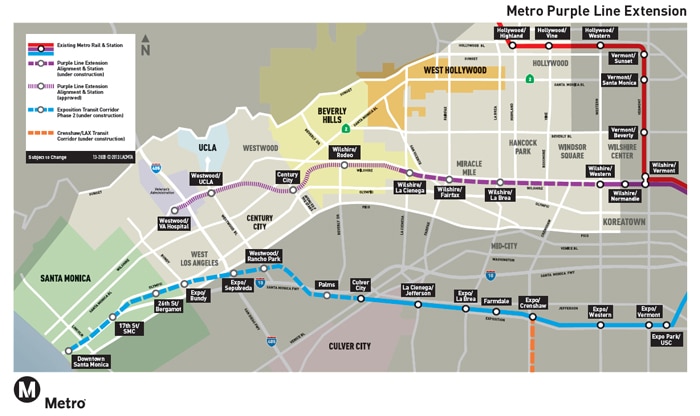 The Los Angeles County Metropolitan Transportation Authority (Metro) staff July 7 recommended awarding a $1.636 billion contract to design and build a 3.9-mile extension of the Metro Purple Line subway from Wilshire and Western to Wilshire and La Cienega to a joint venture composed of three of the world's top construction companies.
At its July 24 meeting the Metro Board will consider the recommendation to award a contract to the firms of Skanska, Traylor Bros. and J.F. Shea, a Joint Venture (STS). The Metro Board's Construction Committee will first review staff's recommendation on July 17.
The procurement process has been extensive and altogether has taken nearly two years to reach the point where the Metro Board this month will consider a contract award for the first phase of the subway extension.
The contract calls for building twin subway tunnels on a 3.92-mile alignment that includes three new underground stations at Wilshire/La Brea, Wilshire/Fairfax and Wilshire/La Cienega. It also includes train control and signals, communications, traction power supply and distribution, and fare collection systems that will be integrated with the existing Metro Rail system. Construction activities could begin later this year depending on when the contract is awarded. The contract requires completion in October 2024. The contractors have proposed an early completion schedule saving 300 calendar days.
Combined, these three construction firms have more than 300 years of experience. Traylor Bros. Inc. has a track record that features more than 110 tunneling projects including the Metro Gold Line Eastside project that connects downtown Los Angeles with Boyle Heights and East Los Angeles. That project was completed in 2009 on time and within budget, and Traylor Bros. achieved 4.5 million work hours without incident and zero ground loss during construction.
Skanska is building the extension of the Expo light rail project from Culver City to Santa Monica, scheduled to open in early 2016. The project is on time and within budget.  The company also worked on the Metro Gold Line Foothill Extension from Pasadena to Azusa, also scheduled to open in 2016 and is on time and within budget.
Skanska and Traylor Bros. are the team building the Regional Connector, a 1.9-mile underground light rail project in downtown Los Angeles that will connect the Metro Blue, Gold and Expo lines. Shea is part of a joint venture building the Crenshaw/LAX Transit Project, which will connect the Metro Expo and Green light rail lines in the Crenshaw and Inglewood corridors. Shea and Traylor worked on the large City of Los Angeles Northeast Interceptor Sewer tunnel. The firms' experience in working together on large transit and other infrastructure projects was cited as a major strength in a recommendation for the subway contract by an evaluation panel that included representatives from Metro and the City of Los Angeles. The four panelists combined have about 100 years' experience in construction, engineering and operations.
Another plus for the STS team is its experience and skill in overseeing complex tunneling projects. The Purple Line subway extension will tunnel through tar sands and gassy soil conditions. Among other strengths cited was the consortium's very good experience in executing mitigation measures that address third party and community concerns, and strong participation for small and disadvantaged businesses in subcontracting for design and construction (20.25 and 17 percent).
Forty percent of the contract evaluation was based on price. STS was highest in this regard but scored higher in project management and technical approach than two other bidders – Westside Transit Partners WTP (Impregilo S.p.A., Samsung E & C America Inc. and Salini USA Inc.) and a Dragados/Astaldi/Southland (DAS), a joint venture of Dragados USA Inc. (DUSA), Astaldi Construction Corp. and Southland Contracting Inc.
Funding for this first phase of the subway extension to the Westside comes from federal grants and low-interest loans, monies from Measure R and the City of Los Angeles, and other existing local and federal funds.
Two other construction phases entailing separate future design/build contracts eventually will extend the Purple Line subway westward for nearly nine miles to just past UCLA and the Veterans Administration Hospital in Westwood with a total of seven new stations.