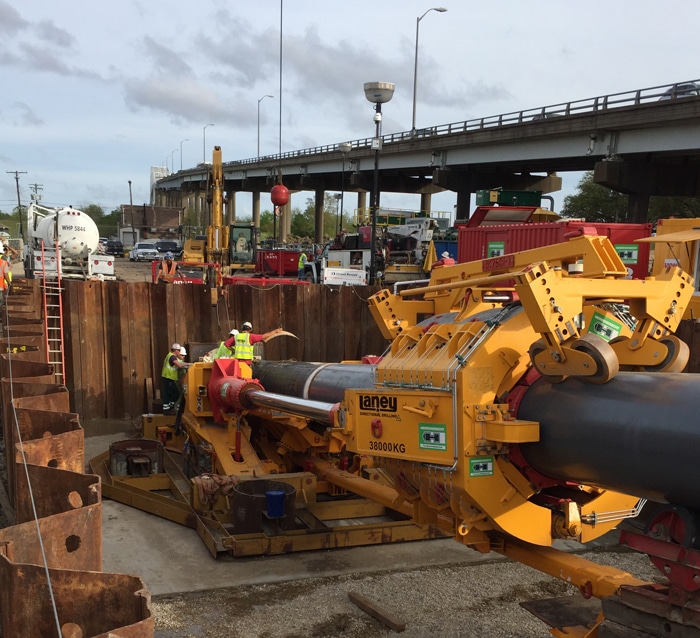 Laney Directional Drilling successfully helped the City of Port Arthur complete 3,505 ft of 48-in. pipe installation under the Sabine Neches Waterway – A U.S. record for Direct Pipe, according to Laney. This record-setting project, completed between March 4 and May 12, 2015, will bring water from Port Arthur, Texas, to Cheniere Energy's LNG facility in Louisiana. The pipe runs under a flood control levee, railroad tracks, and the Sabine-Neches waterway.
Laney not only installed the record-setting Direct Pipe project but also designed the entry pit and the thruster foundation. Laney's engineering team was fully involved in the pre-construction planning, design improvement, submittals to U.S. Army Corps of Engineers for approval of final design, and monitoring during construction.
It took 22 days for the Herrenknecht 750 metric ton Pipe Thruster to punch through right on the planned target. Direct Pipe is a single pass process that uses a steerable tunnel boring machine-cutting head. The technology tunnels and pushes the pipe into place at the same time, filling the void as it progresses. This technology greatly reduces the likelihood of hydraulic fracture and inadvertent returns and is ideal for crossing under levees and sensitive environmental areas.
Project partners included Strike, Herrenkknect, Arceneaux Wilson & Cole, and GeoEngineers.