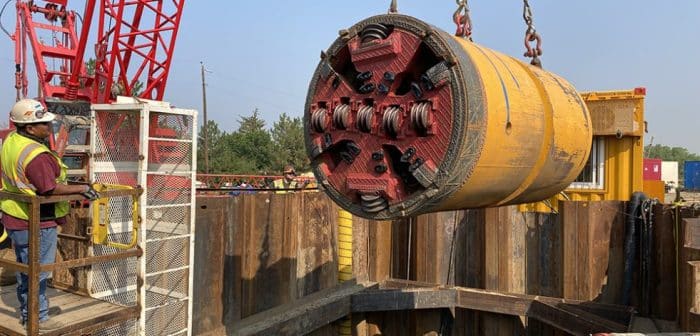 Colorado-based Lithos Engineering has joined GEI Consultants. Lithos is a 27-person engineering firm specializing in tunnel and trenchless design and construction technology. Lithos provides a wide range of geotechnical and geological engineering solutions to a diverse client base, both in Colorado and throughout the United States, where they have successfully completed hundreds of projects in the public and private sectors.
"Lithos' highly specialized services – particularly the team's expertise in tunneling – are a perfect complement to GEI's geotechnical engineering and tunneling capabilities," says Ron Palmieri, President and CEO of GEI. "We have long sought additional expertise in this service area and, in Lithos, we found a partner with shared values, culture, and commitment to delivering exceptional value and client service. The Lithos team will immediately bring value to many of our water infrastructure projects and GEI provides Lithos access to a strong bench of technical experts for their clients' benefit."
"For Lithos, joining GEI is a perfect fit," says Robin Dornfest, President of Lithos Engineering. "Lithos has experienced considerable success and growth since our humble beginnings, resulting in the need and desire to further invest in our employees, systems, and clients to ensure an exciting and rewarding future for us all. Creating opportunities for our team has always been our mission and this merger enables us to realize that mission. As an employee-owned private company, GEI has the resources, experience, service mix, and culture that fits Lithos' current and future needs. An attractive feature of this merger is the opportunity for all Lithos employees to become owners in the business as ownership opportunities are offered to all GEI employees."      
GEI Consultants, Inc. is a consulting engineering firm that delivers professional services that improve our world's built environment. With more than 1,400 staff and 55 offices in North America, GEI is a leader in providing multi-disciplined engineering and environmental services to a range of private and public sector clients, both domestically and abroad.
Lithos Engineering was formed with the vision of serving our communities by providing our clients and their projects with recognizable value through prudent site evaluations, constructible solutions, and an understanding of project risks. Lithos focuses on geotechnical, tunnel, trenchless, and geological engineering and design services through innovative, collaborative, client focused consulting uniquely tailored to suit the needs of our clients and their projects.